Netanyahu's claims on Iran nuclear program contradicted Mossad findings – leaked docs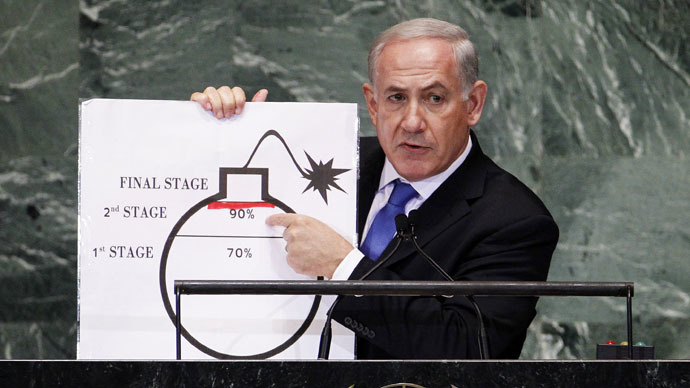 Israeli PM Benjamin Netanyahu's 2012 statement at the UN, in which he warned the world of Iran being too close to making a nuclear bomb, allegedly contradicted his country's intelligence assessments, according to leaked spy documents.
Netanyahu famously declared to the United Nations General Assembly in September 2012 that Iran was 70 percent of the way to completing its "plans to build a nuclear weapon," and drew another "red line" at 90 percent, claiming Tehran's first bomb would be ready "by next spring, at most by next summer."

However, leaked Mossad documents suggest the country was much further from such development.

READ MORE: Netanyahu warns America that Iran is an 'enemy', not a partner

According to Spy Cables – a cache of hundreds of leaked secret intelligence papers from all over the world, published by Al Jazeera's Investigative Unit in collaboration with the Guardian newspaper – at the time of Netanyahu's statement, Israel's intelligence service concluded that Iran was "not performing the activity necessary to produce weapons," estimating that Iran had 100 kilograms of uranium enriched to a level of 20 percent.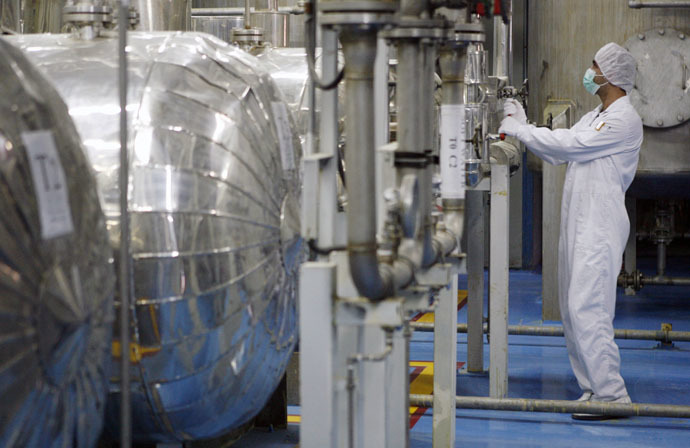 "Even though Iran has accumulated enough 5 percent enriched uranium for several bombs, and has enriched some of it to 20 percent, it does not appear to be ready to enrich it to higher levels. It is allocating some of it to produce nuclear fuel for the TRR [Tehran Research Reactor], and the amount of 20 percent enriched uranium is therefore not increasing," said the secret report, which Mossad shared with South Africa's State Security Agency a few weeks after the prime minister's UN speech.

READ MORE:China urges Iran to uphold its right to 'peaceful use of nuclear power'

With world leaders worried by a possible nuclear threat, a series of political decisions led to Iran's consent to neutralize or destroy its enriched uranium under an agreement with the US, Britain, China, Russia, France and Germany – the so-called P5+1 group.

Talks between world leaders on Iran's nuclear ambitions and uranium enrichment capacity have taken place since sanctions were imposed on Tehran in 2012.

Iran insists it has no nuclear weapons ambitions and seeks enrichment capabilities to develop reactor fuel, and for other peaceful purposes. However, the West believes Tehran has been using its civilian atomic energy program as a cover for developing a bomb.

READ MORE:Iran threatens nuclear enrichment expansion if US pursues sanctions

Since the parties failed to reach a conclusion by the previous deadline of November last year, Iran's nuclear talks with the six world powers carry on. Iran and P5+1 countries are expected to reach a basic framework agreement by the end of March, with a final accord due by June 30. Netanyahu plans to address the US Congress next month to once again warn against a nuclear compromise with Tehran.
You can share this story on social media: