Video from 'Russian Bear' bomber captures NATO escorts over English Channel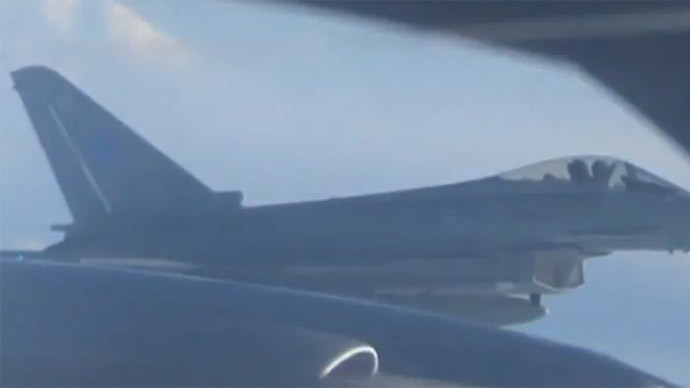 The Russian Defense Ministry's TV channel has released video footage taken from a Tu-95 strategic bomber as it was shadowed by RAF Fighter Typhoon jets. The video features engines that appear to be stalling.
The video compilation published on Wednesday by the Zvezda channel was shot from one of the Tupolev Tu-95 "Bear" bombers as it was flying on a mission in international airspace close to the United Kingdom.
The turboprop bomber is seen being escorted closely by several NATO fighter jets scrambled to intercept it. One is easily identified by its tail code "FB" as an RAF Eurofigher Typhoon from the Lossiemouth airbase.
Zvezda's description of the mission mentions two Tu-95s flying from the Engels airbase in southern Russia but doesn't offer the exact date. Lossiemouth reported intercepting two "Bears" on January 30, although it could have been one of many other encounters between Russian bombers and UK jets over the North Sea. The latest happened on Thursday.
READ MORE: RAF scrambles Typhoon jets, intercepts Russian Bear bombers off Cornwall
The video features a rare view of Tu-95 coaxial propellers apparently rotating at very low speed with its blades seeming to be banding. It's actually an optical illusion. The blades are actually spinning so fast that their tips break the sound barrier (the reason why Bears are among the noisiest planes in the world). The blades rotate a full circle in the time it takes for a camera's shutter to act and take a frame, making them appear to be almost immobile.
The Tupolev Tu-95 is a four-engine, long-range bomber designed to carry nuclear-capable cruise missiles. They are part of the Russian nuclear deterrence force.
You can share this story on social media: