​'Europe non-competitive without Moscow': Hungary & Russia seek closer energy, gas transit ties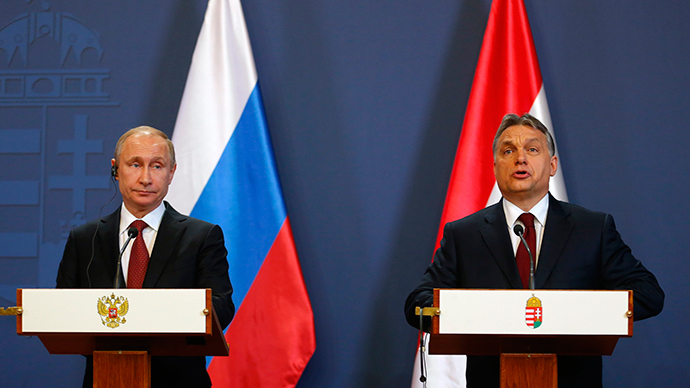 Russia sees Hungary as a strategic partner and will pursue mutually beneficial energy projects, while Budapest is striving for cooperation with Moscow. The European economy will never be competitive without Russia, the Hungarian PM told Vladimir Putin.
Both Hungary and Russia need each other and are interested in reliable gas supplies and transit, Hungarian Prime Minister Viktor Orban said after signing several deals with President Vladimir Putin.
"I have clearly stated that Hungary needs Russia. For us, Hungarians, it is important that Russia is open for Hungarian products. And Hungary is interested in reliably getting Russian energy," Orban said at a joint press-conference with Putin.
READ MORE: Hungarian rhapsody: Will Putin's visit to Viktor Orban give Russia a way into Europe?
He has stressed that Hungary will strive for cooperation with Moscow as well as maintaining "good contacts".
"I am personally sure that cooperation and good relations serve the interests not only of Hungary, but also the whole of Europe," the Hungarian Prime Minister said. He then added that the deals Moscow and Budapest signed on Tuesday "perfectly serve the interests of both Russia and Hungary."
Isolation of Moscow 'unpractical', Europe not competitive without Russia
Speaking of broader cooperation, Orban has also stressed the necessity to revive Russia-EU relations, saying "the isolation of both Russia and Europe is unpractical"
"Sanctions hurt; the response also caused harm. Of course, we respect both sanctions, and the [Russia's] responsive steps, but our common goal is to strengthen the cooperation between our countries," he said.
The European economy will not be competitive and energy security will not be ensured without cooperation with Moscow, the Prime Minister pointed out: "One who believes the European economy will be competitive without cooperation with Russia and one who thinks energy security can be guaranteed in Europe without energy supplies from Russia is cherishing illusions."
"I am certain that relations between the European Union and Russia need to be reestablished as soon as possible," Orban said. "Hungary is struggling to find appropriate solutions."
South Stream termination an opportunity to cooperate on Turkish route
Hungary's role as a gas transit country has not diminished with the cancellation of the South Stream, Putin emphasized.
"Unfortunately, as you know, we had to cancel the South Stream pipeline project, but I believe that the experience that we have built together with the Hungarian partners, the jointly created venture, may be used also in expanding the work with our Turkish friends regarding the so-called Turkish stream," Putin said.
Budapest - russia's Putin says gazprom ready to ship gas to Hungary beyond existing agreement. pic.twitter.com/xEJhyIy6Rm

— pinnacle (@Opus_104) February 17, 2015
"There are different options here, and we are ready to discuss them with anyone who is interested in cooperation," the president added.
Orban confirmed that Hungary is looking forward to joining the Turkey Stream project, which could transit Russian gas to Greece, Macedonia, Serbia and Hungary, and "is fully committed to continue investments."
Energy issues dominated the talks between Orban and Putin, for whom it was the first formal visit to the EU-state since the beginning of the Ukrainian crisis in 2014. Budapest and Moscow already reached a "political agreement" on a new gas deal on Tuesday.
"We [Russia] value our reputation as a reliable supplier of energy resources to Europe and Hungary," Putin said after the talks with the Hungarian PM. "We have agreed [with PM Orban] that we will not only positively consider certain issues the Hungarian side had raised during today's talks but also agreed that all these issues will be settled."
Those issues, according to Putin, include contracts for Russian gas supplies to Hungary after 2015 and "some other issues linked with the use of gas storage facilities."
You can share this story on social media: