'Despicable act': Hundreds of Jewish tombs defaced in France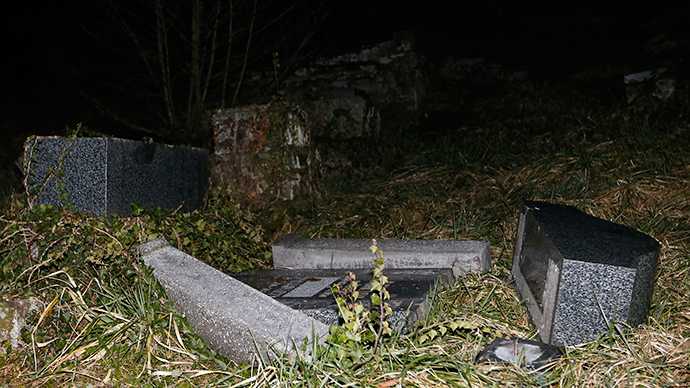 Five teens have been questioned after hundreds of tombs in a Jewish cemetery were vandalized in eastern France. The incident follows a rise in the number of attacks against European Jews, the most recent being Sunday morning's shooting in Copenhagen.
Five teenagers were taken into custody for vandalizing around 300 Jewish graves in Sarre-Union in the northeastern region of Alsace on Thursday. The youngest one of the boys, aged 15, came forward to the authorities after seeing the negative backlash the horrific incident had incurred from politicians and the general public, prosecutor Philippe Vannier said.
"Apparently, he was very, very affected by the scale of the reaction to this affair, including the statements from the highest state authorities," Vannier told reporters on Monday saying the teen denied any anti-Semitic motive.
"We don't know the motives of these adolescents who don't have past criminal records and we don't know of any ideological convictions that could explain their behaviour. They are very, very shocked by the turn of events," Vannier said, adding that the five boys in custody were between 15-17 years of age.
READ MORE:Danish police kill suspect in two Copenhagen shootings
What happened in the town of Sarre-Union was a "despicable act," French Interior Minister Bernard Cazeneuve said on Sunday, referring to the defaced Jewish tombs. "The country will not tolerate this new injury which goes against the values that all French people share."
"Every effort will be made to identify, question and bring to justice the person or persons responsible for this ignominious act," he added.
France's Prime Minister Manuel Valls also condemned the act of desecration on Twitter, referring to the incident as "an antisemitic and ignoble act."
RT @France24_en:Hundreds of tombs defaced in Jewish cemetery in France http://t.co/znds83u9oWpic.twitter.com/jCrRrbwpph

— Roberto Re (@robertore62) February 15, 2015
The Sarre-Union cemetery has witnessed several cases of vandalism in the past. Approximately 60 Jewish gravestones were overturned and thrown to the ground in 1988, and another 54 tombs were destroyed in 2001.
READ MORE: Anti-Semitic attacks reach record UK high, Israel's Gaza offensive blamed – study
The attacks come amid growing religious tensions in Europe. France has been in the center of it all, since the Charlie Hebdo attacks in Paris last month.
On January 7, Islamists attacked the office of French satirical magazine Charlie Hebdo, known for its controversial cartoons of the Prophet Muhammad. The assailants said they "revenged their Prophet." Two days later, a gunman linked to the attackers took hostages at a Paris kosher store, killing four Jews there. A total of 17 people were killed in the attacks.
The most recent attack shocked Denmark's Copenhagen this weekend, when two people were killed in two separate shootings outside a synagogue and at a free speech debate in a café. The slain suspect was identified by police as a 22-year-old Danish-born man with a criminal record and history of gang-related offenses.
READ MORE:Netanyahu to French Jews: 'Come home to Israel from terrible European anti-Semitism'
On Saturday, Israeli Prime Minister Benjamin Netanyahu renewed his call for Jewish immigration to Israel, echoing his words that followed January's Charlie Hebdo terrorist attacks. "Jews were killed on European land just because they were Jewish. This wave of attacks will continue. I say to the Jews of Europe – Israel is your home," he said.
Netanyahu said Israel will discuss a $46 million plan to encourage Jewish migration from Belgium, France, and Ukraine, stressing that Israel is the home to all Jews.
You can share this story on social media: