Danish police kill suspect in two Copenhagen shootings
Danish police said they killed a man likely responsible for two Copenhagen shootings – at a synagogue and at a café hosting a free speech debate.
Early on Sunday, police fired multiple shots at Copenhagen's central Norreport station, killing a man.

"The man was hailed. He opened fire against the police and was then shot to death. The man has died. No police officers were hit," the police said in a statement.

Danish police said at a subsequent briefing that the dead man was the prime suspect in two Copenhagen shootings which took place hours earlier.
Politimand såret og mand nede foran Jødisk synagoge. pic.twitter.com/v3vRg4mFNL

— Rasmus Thau Riddersh (@rtridder) February 15, 2015
A man was killed in the shooting that took place at a synagogue on the Danish capital's Krystalgade Street, Sunday morning. Two police officers were injured in the same incident.
Denmark's Jewish Community said the victim was Jewish and identified him as 37-year-old Dan Uzan, AP reported.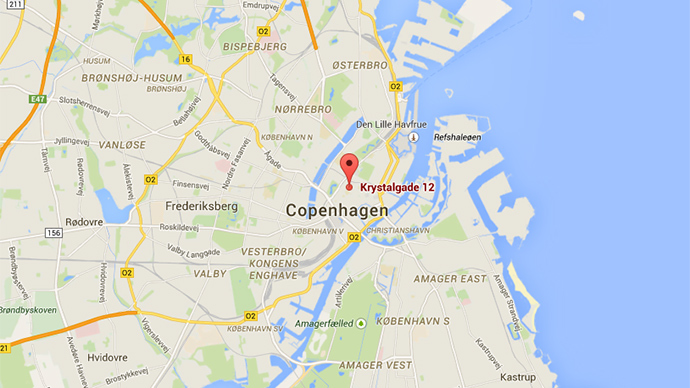 He was standing by the synagogue entrance checking those coming in for a boy's Bar Mitzvah celebration. There were reportedly 80 people inside the synagogue at the time of the attack.
Late on Saturday, Copenhagen was shaken by a shooting at the 'Art, Blasphemy and Freedom of Expression' meeting that was attended by controversial artist Lars Vilks and the French ambassador to Denmark, François Zimeray. Both were unharmed. The gunman fatally shot a 55-year-old man, attending the event, and injured three police officers.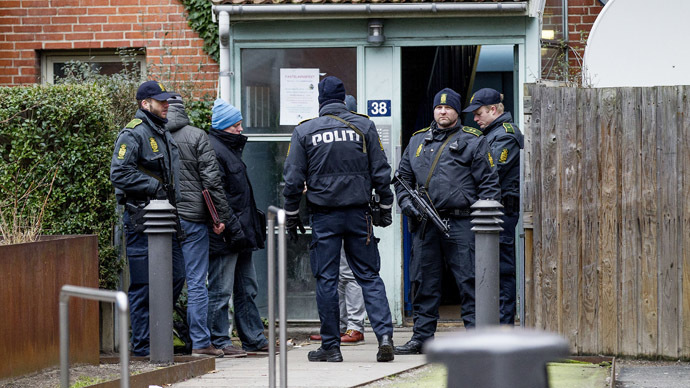 READ MORE: Deadly shooting at blasphemy debate in Copenhagen featuring cartoonist Lars Vilks
"We assume that it's the same culprit behind both incidents... that was shot by the police," Chief police inspector Torben Molgaard Jensen told reporters, according to Reuters.
Danish police: Not safe to be outside in the central COPENHAGEN right now, reports Danish TV2. #cphshooting

— Morten Frich (@MortenFrich) February 15, 2015
#Cphshooting: Police advise people to stay indoors, Copenhagen 'not safe' as manhunt continues http://t.co/bb4WmMIUvnpic.twitter.com/8Y3zV7ly4c

— RT (@RT_com) February 15, 2015
Some reports have speculated that the Saturday attack could have been an assassination attempt on Lars Vilks, who has been living under heavy security since drawing a cartoon depicting the Prophet Mohammed as a dog in 2007.
Parallels have been drawn between the Copenhagen attacks and the Charlie Hebdo massacre in Paris a month ago.
READ MORE: Charlie Hebdo attack & fallout
Danish security forces have said that incident was likely a terror attack. This was later backed by Prime minister Helle Thorning-Schmidt.
"We feel certain now that it was a politically motivated attack, and thereby it was a terrorist attack," she told reporters. "We are on high alert all over the country."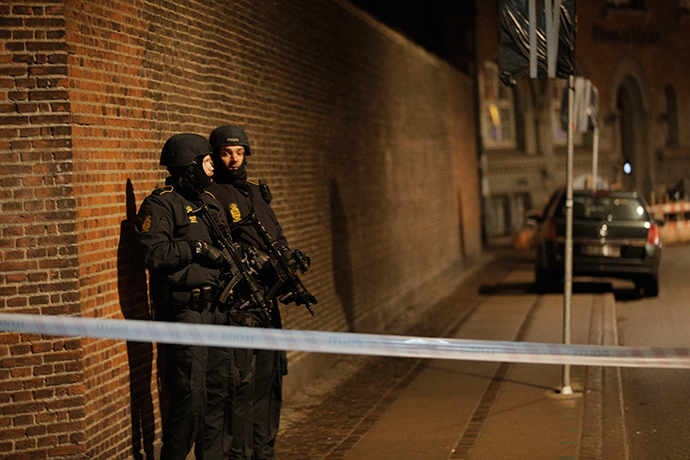 A manhunt for the suspect – described as a male wearing a light grey jacket, black pants, and black shoes – was launched. Scores of militarized police were deployed to the area. Police were advising people to stay indoors, saying that central Copenhagen it currently "not safe."
Police were carrying out spot checks at Denmark's borders with Germany and Sweden.
Duitse politie controleert auto's uit Denemarken bij de grens http://t.co/71gj4qhhITpic.twitter.com/a9RPgxgFA8

— RTL Nieuws (@RTLNieuwsnl) February 15, 2015
Conflicting reports in local media said there were two attackers in the synagogue, with one of them possibly arrested in the ongoing police operation. Police helicopters have been circling above the city's central streets.
UPDATE - PHOTO: Police arrest one, However police say it's unrelated to manhunt, at least 1 shooter still at large. pic.twitter.com/8fA3H9No7w

— Jewish News Feed (@JewishFeed) February 15, 2015
You can share this story on social media: