At least 1 in 5 suicides globally associated with unemployment, scientists find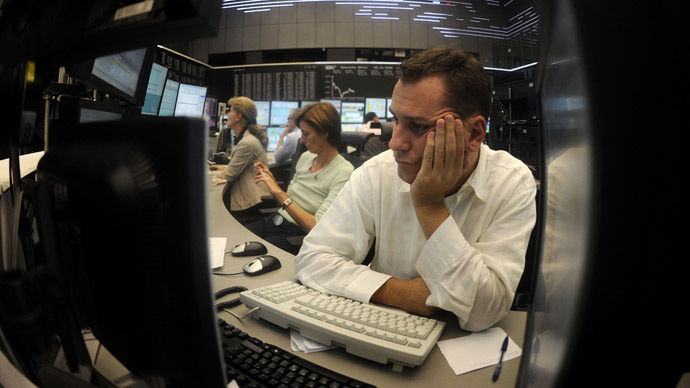 Around a one fifth of all suicide deaths are down to unemployment concerns research has shown, Swiss scientists have found. This is far higher than other causes such of ending ones life such as economic downturns.
The survey, which was conducted by a team of researchers from the University of Zurich's Psychiatric Hospital, found that suicides associated with unemployment were nine times higher than the number of suicides attributed to the economic crisis.
"Every year, around one in five suicides is associated with unemployment," said the lead author of the study, Carlos Nordt. The study has just been published in the journal The Lancet Psychiatry.
Unemployment between 2000 and 2011 was responsible for around 45,000 deaths, while the recession accounted for about 5,000 during the same period. The researchers estimated that there were 233,000 suicide deaths per year, amongst the 63 where the research took place.
Tackling unemployment is an important part of suicide prevention. [Free to access.] http://t.co/08tRb7gJwUpic.twitter.com/rW0QrZbFXM

— Lancet Psychiatry (@TheLancetPsych) February 11, 2015
Interestingly, the report finds that it is the stigma of losing one's job, which is the main factor behind unemployment suicides. Also those countries, which have lower unemployment rates, tend to see higher numbers of those out of work choosing to end their own lives.
"Our findings reveal that the suicide rate increases six months before a rise in unemployment. What is more, our data suggests that not all job losses necessarily have an equal impact, as the effect on suicide risk appears to be stronger in countries where being out of work is uncommon," said Dr. Nordt.
"It is possible that an unexpected increase in the unemployment rate may trigger greater fears and insecurity than in countries with higher pre-crisis unemployment levels," he added.
Unemployment/job insecurity linked to increased risk of suicide - #BehindTheHeadlines report: http://t.co/sK6g1mmaC5pic.twitter.com/UosAVapd8z

— NHS Choices (@NHSChoices) February 11, 2015
The report covered countries in four continents, though it did not include China or India. It added that a 20 to 30 percent increase in the number of suicides has taken place in just over a decade.
Those behind the study used data on suicide and the economy, which had been gathered by the World Health Organization's mortality database and the world economic outlook database of the International Monetary Fund to come to their conclusions.
In 2007 being out of work was linked to 41,148 suicides, while in 2009 that number had risen to 46,131. Therefore the research team was able to deduce that the extra 4,983 suicides were a result of the 2008 economic crisis.
READ MORE: Job stress 'behind 120,000 American deaths a year'

Dr. Nordt says he believes more should be done by governments to try and prevent suicides amongst those who are out of work, by trying to create more employment opportunities.
"Besides specific therapeutic interventions, sufficient investment by governments in active labor market policies that enhance the efficiency of labor markets could help generate additional jobs and reduce the unemployment rate, helping to offset the impact on suicide," he said.
Commenting on the research paper, Roger Webb and Navneet Kapur from the University of Manchester said social and psychological problems also play a significant part in the number of suicide deaths.
READ MORE: 'Death by overwork': Workaholic Japanese to be forced to take vacation time

"Many affected individuals who remain in work during these hard times encounter serious psychological stressors due to pernicious economic strains other than unemployment, including falling income, zero-hour contracting, job insecurity, bankruptcy, debt, and home repossession," they wrote, which was reported by the Guardian.
You can share this story on social media: