Twitter transparency report shows surge in user info & data removal requests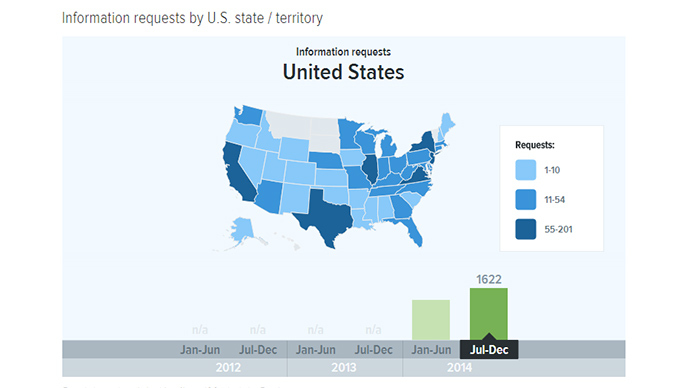 In its latest transparency report, Twitter has revealed a whopping 40 percent global increase in governmental user information requests, with the US leading the way. Meanwhile, Turkey, Russia, and Germany have seen an increase in content removal requests.
"We've received ~40% more requests for account information affecting 128% more account holders during the second half of 2014 than in the previous reporting period," the report says.
The transparency report, which covers the second half of 2014, shows that the San Francisco-based social media giant received 2,871 requests from governments across the world to reveal data about 7,144 of its users. Some 52 percent of the user information requested was surrendered by the company.
Washington is leading the way with 1,622 requests, totaling more than half the number of global petitions. The company shared information in 80 percent of the cases. That number constitutes a 29 percent increase in requests from the United States, and an increased compliance rate of eight percent.
Most American information requests come in one of three forms – subpoenas, court orders, or search warrants.
"From July through December in 2014, 56% of all worldwide requests for account information originated from the US During this same period, we also saw an increase of 72% in the number of accounts affected by these requests," Twitter stated.
The Twitter data also revealed that Turkey has made 356 information requests, putting it in second place behind the US. However, none of those requests have been granted.
Ankara also sent 477 content removal requests. Half of the requests resulted in withholding some data, the company reported.
"During this period, we filed court objections in response to over 70 percent of the Turkish court orders we received, winning 5 percent of our appeals, losing 80 percent, and having ~15 percent still pending with the courts," Jeremy Kessel, Twitter's senior manager for global legal policy, said in a company blog post.
just finished interactive map for twitter transparency report http://t.co/opjrTRcMym with @brieravil@jer@villapic.twitter.com/ZqFBCAPDux

— Robert Harris (@trebor) February 9, 2015
Meanwhile, all account information requests from Russia were denied. "We received a total of 108 requests for account information from Russia, following the passage of its new 'bloggers law' in August 2014, to which we have not provided any information," the company stated, referring to a new law passed in August which allows authorities to ban "extremist" content.
Out of Russia's 91 content removal requests, ranging from the promotion of illegal drugs to those that incite violent and terrorist sponsored behavior, some 13 percent were partially fulfilled. "We received one court order and 89 requests from the Federal Service for Supervision in the Sphere of Telecom, Information Technologies and Mass Communications (Roskomnadzor)," Twitter said.
READ MORE: Legislative restrictions on popular bloggers come into force in Russia
Restrictions of the so-called "blogger's law" include the demand to verify information before publishing it online and abstaining from releasing reports on the web containing slander, hate speech, extremist calls, or other banned information such as, for example, advice on suicide. The law also bans popular bloggers from using obscene language, drawing heavy criticism and mockery from the online crowd.
The measures adopted by the government last summer follow similar measures introduced by Federal Law 398-FZ, which came into force on February 1, 2014. It allows Roskomnadzor to block websites containing extremist material on the instruction of the Prosecutor General's Office, without a court order.
With information and data removal requests coming from more than 50 countries across the globe, "providing this level of transparency is not without its complications and sometimes means we get tough questions and criticism about our decisions," Kesse said. "However, this candid feedback helps us to be evermore thoughtful about our policies and decisions regarding content and compliance as we navigate complex, diverse legal regimes around the world."
You can share this story on social media: