Munich Security Conference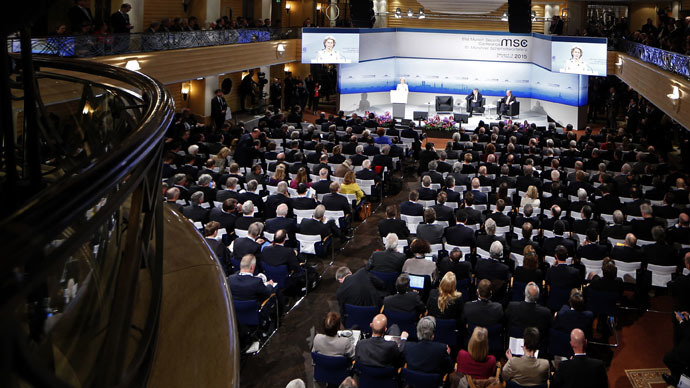 World leaders have gathered to discuss the key challenges in international security policy at the annual Munich Security Conference, which began on Friday. The on-going conflict in Ukraine is top of the agenda.
09 February 2015

04:51 GMT

NATO Secretary General Jens Stoltenberg said that every member state "has to decide on its own" whether or not to send military weapons to Ukraine, DPA news agency quoted him as saying at a meeting with the leaders of the Germany's ruling Social Democratic Party's coalition.

Stoltenberg also expressed support for the 'Normandy Four' meeting, which may be held in the Belarusian capital, Minsk, as early as Wednesday.

08 February 2015

13:19 GMT

"The majority of EU politicians, if not all," including Moscow, are negative about the possibility of weapons supply to Kiev, said Russian Foreign Minister Sergey Lavrov speaking on the sidelines of the Munich Security Conference. "[This] idea can only exacerbate the profound Ukrainian crisis," he told reporters. He said there have already been cases of lethal aid supply to conflict areas when these weapons "fell into the wrong hands. <…> The current Ukrainian president doesn't have a monopoly on security structures."

11:09 GMT

French Defense Minister Jean-Yves Le Drian told the iTELE TV channel he was against sending weapons to Ukraine and opposed to Ukraine becoming a member of NATO.

"This is totally ruled out," he said. "France has many times said it's not going to support the idea of Ukraine entering NATO."

10:47 GMT

US Secretary of State John Kerry has acknowledged the crisis in Ukraine can't "end through military force," and denied there was a split between the US and EU over handling the crisis.

"Let me assure everybody there is no division, there is no split - I hear people trying to create one," Kerry said, as cited by Reuters. "We are united, we are working closely together, we all agree that this challenge will not end through military force. We are united in our diplomacy."

10:46 GMT

Kiev hasn't provided Moscow with copies of documents it describes as proof of Russian military presence in Ukraine, said Viktor Sorokin, director of the CIS (Commonwealth of Independent States) department within the Russian Foreign Ministry.

Ukrainian President Petro Poroshenko showed the audience at the Munich Security Conference several passports on Saturday, saying they belonged to Russian soldiers fighting in Ukraine.

"We asked the Ukrainian side to give us copies of the documents containing last names, because such IDs, as were shown yesterday, could easily be bought. There's no real proof, as of today, the Ukrainian side has not been able to give us the copies of these documents," Sorokin said, as cited by RIA Novosti.

10:36 GMT

Russian Foreign Minister Sergey Lavrov has met with his EU counterpart Federica Mogherini. A European diplomatic source said the pair planned to talk about the current situation in Ukraine, Iran's nuclear program and a number of questions regarding Russia's relationship with the EU.

09:43 GMT

Weapons supplies to Ukraine would only aggravate the crisis, German Foreign Minister Frank-Walter Steinmeier said at the Munich Security Conference. He added European security could only be built with Russia, not against it.

Steinmeier also criticized his Russian counterpart Foreign Minister Sergey Lavrov for his remarks, in which he accused the US and the EU of escalating the crisis in Ukraine.

"It is Moscow's responsibility to identify common interests," Steinmeier said, according to Reuters. "We have seen too little of this so far. And the speech by my colleague Lavrov yesterday made no contribution to this."

09:41 GMT

The former head of the UN, Kofi Annan said the US led invasion of Iraq was a mistake and helped to create the Islamist militant group, the Islamic State.

"I was against this invasion and my fears panned out exactly as I would not have wished. This decision aggravated the situation, while the break-up of the Iraqi forces left a number of unhappy police officers and army personnel unemployed," the former UN secretary general stated. He added that some of these former security force members would go on to join the Islamic State.

"The aim of creating democracy without the existing institutions led to the corruption of a corrupt regime," Annan said.

"The Islamic State is destroying the diversity and pluralism in the Middle East," the former secretary general concluded.

05:51 GMT

It is much easier for the US to call for more sanctions, when it has comparatively little trade with Russia, Executive Director of Germany's Committee on Eastern European Economic Relations, Dr. Rainer Lindner, told RT in Munich.

"A country that has only 10 percent of trade with Russia than Germany has is easier to ask for sanctions because you don't have much to lose. Given the fact that the America-Russia trade grew in 2014 by one percent and the German-Russian trade fell down by 20 percent shows you that even despite the fact that there were sanctions introduced by the Americans first and then the EU, the American-Russian trade grew and now we have big problem for European companies in Russia," he said.

Lindner referred to the Munich conference as the "last chance to bring peace … and we shouldn't miss it." He further explained that a political solution is the only viable option. "We are desperately asking for political solutions because we don't see any changes in [the political actions of] Russia through sanctions."

Russia has to perceive this as strong signal from the Europeans, Lindner told RT. "It is not the Americans who enter Moscow. It is the Europeans - it is the Chancellor and French president. The appeal and the signal is: 'don't miss that chance for maybe a last solution for brining peace into Ukraine and not to deescalate.'"

05:50 GMT

The time has come to find a political solution to the crisis in Ukraine, Executive Director of Germany's Committee on Eastern European Economic Relations, Dr. Rainer Lindner, told RT in Munchen, adding that German and Russian business have taken a big hit.

"The business relations between Germany and Russia are in a very deep crisis as well as the political relations. And as business representatives, we convinced our political partners, both from Russia and our minister of economy, Mr Gabriel, that it is time to find a political solution for that crisis because business in Russia suffers a lot, but, also German business in Russia suffers," Lindner said.