NATO involvement in Ukraine is 'destructive' – Russian envoy to alliance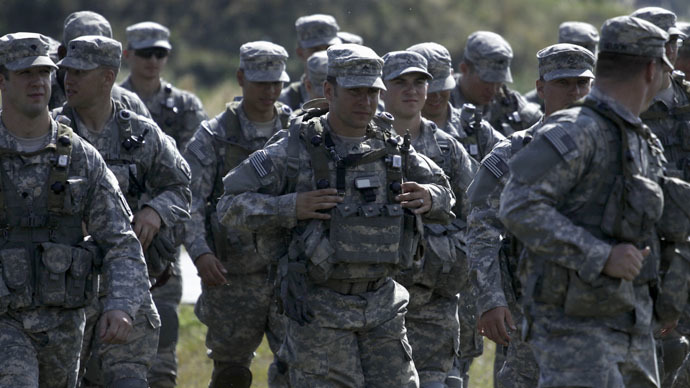 NATO weapons deliveries to Ukraine are unacceptable and could lead to dangerous and unpredictable consequences, says Moscow's NATO envoy. He also urges the OSCE to look into the use and origin of Western arms already supplied to the country.
Moscow is warning Washington against sending arms to war-torn Ukraine, including military hardware being pulled out of Afghanistan, Russia's envoy to NATO, Aleksandr Grushko, said on Thursday.
"They are telling us in NATO that they aren't supplying anything, that lethal weapons are not supplied [to Ukraine] … that NATO has no [standard] arms and all weapons are national and there are no NATO systems as such. In reality this is not true," he said.
READ MORE: 'If US sends weapons to Ukraine, Russia should send troops' - lawmaker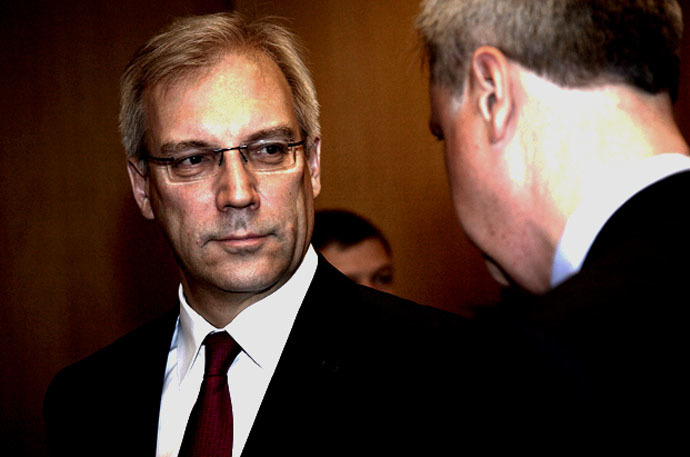 According to the Russian diplomat, NATO is playing an exceptionally destructive role in Ukraine through its attempts to lay the blame for aggravating the situation on Russia, and by shunning the prospect of a political settlement to the crisis.
"In reality, the West is effectively encouraging the war party to continue warfare against its own people," Russia's envoy to NATO noted.
OSCE must give its verdict on Western arms used in Ukraine
The Russian NATO envoy believes "there is a bulk of evidence that Western-made arms are being used in Ukraine," mentioning lethal munitions such as NATO standard artillery shells.
"We expect the OSCE mission [in Ukraine] to deliver its opinion on the matter."
Ukraine has openly received millions of dollars worth of non-lethal military goods from Western countries, including body armor, NATO standard helmets, hundreds of thousands of food rations, barbed wire, optics etc.
READ MORE: US mulls providing Kiev forces with 'defensive' weapons – report
Russia-NATO credibility undermined
According to the Russian diplomat, the lack of trust between Russia and NATO began on April 1, 2014, when the alliance cut short practical partnership with Russia, which "wasn't our decision."
READ MORE: Putin: Ukraine army is NATO legion aimed at restraining Russia
However, Moscow believes there is a chance that mutual confidence can be restored and for this to happen NATO must understand that it needs Russia to settle a lot of problems. The alliance's goals cannot be achieved without cooperation among members of the international community.
"Our position remains clear and open. We're ready for frank talks based on mutual interests," Grushko said, noting the ball is in NATO's court.
NATO mounting pressure on Russia
According to Grushko, deployment of additional NATO troops along Russian borders and setting up training centers threaten the country's security and will be taken into account in defense planning.
READ MORE: Pentagon confirms military buildup along Russian borders for 'peace and stability'
Although it is not a matter of a military invasion - Grushko "hopes there are no hotheads who would dare to throw the gauntlet down to Russia." Yet the power politics and military pressure is still there, the diplomat said.
The envoy believes the "alliance's current initiatives create a very negative trend for NATO security policies in the foreseeable future" that would be as hard to overcome as the arms race in the recent past.
READ MORE: 30,000 troops, 6 rapid units: NATO increases military power in Eastern Europe
#Nato establishing rapid reaction force 2 counter perceived threat of #Russiahttp://t.co/GQ8Y6VwWEypic.twitter.com/cptGnsHvVs

— Major Paul Smyth (@MajorPaulSmyth) February 6, 2015
NATO seeking to restore military contacts with Russia
At the same time, the diplomat says there are signals about restoring Russia-NATO military ties at top levels. A direct dialogue between the military is needed to avoid misinterpretations of each other's actions, he said.
According to him, it is "a vivid example that the security situation in Europe is deteriorating and NATO itself is beginning to think about playing down the dissidence "using the instruments created during years of confrontation."
READ MORE: NATO wants to re-establish contacts with Russia's military – bloc chief
You can share this story on social media: