US sending weapons to Kiev 'not the answer' to Ukraine crisis – White House adviser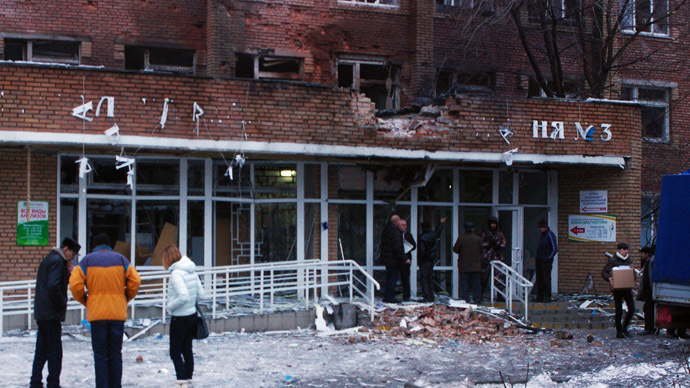 Supplying more arms to the Ukrainian government won't solve the crisis in the country, a senior Obama administration official said. It comes after reports that some figures in the White House are advocating such a move.
"We don't think the answer to the crisis in Ukraine is simply to inject more weapons," deputy national security adviser Ben Rhodes told CNN on Monday.
Instead, "the best way" lies through imposing more economic sanctions on Russia, the White House official added.
READ MORE: US mulls providing Kiev forces with 'defensive' weapons – report

White House Press Secretary Josh Earnest said during a Monday briefing that the US is mulling ways it can give additional funds to Kiev.
"The scope of our financial assistance to Ukrainian authorities could increase significantly due to the unstable situation in the country provoked by Russia. We can and must do more to provide financial assistance to Ukraine," Earnest said.
"We do continue to assess how to best support Ukraine," US State Department spokesperson Jen Psaki also said on Monday. "Our focus does remain on pursuing a solution through diplomatic means, and we are always evaluating other options that will help create space for a negotiated solution to the crisis."
Washington is a vocal supporter of the regime in Kiev, which took power after an armed coup in February. It blames Russia for the country's slide into a civil war, which has already claimed more than 5,000 civilian lives and is taking a heavy toll on the Ukrainian economy.
Russia has been calling for a peaceful solution to the crisis. President Vladimir Putin stressed in December that this must be achieved through direct talks between Kiev and the rebels.
"We hear many warlike statements. I think that President Poroshenko is ready for regulation [of the crisis], but we need concrete actions," Putin said then. "But it [the operation] is made by Kiev authorities, not vice versa. It's not self-defense forces who sent their troops to Kiev, but the other way round – Kiev authorities sent their forces to the southeast."
Hostilities between anti-government forces and troops loyal to Kiev intensified in January, burying a shaky ceasefire that had been constantly violated by both parties. Russia, which co-sponsored the ceasefire with the OSCE, blames Kiev's preference for use of force and Washington's unconditional support of such policies for the escalation.
The Ukrainian authorities have reported numerous times that Russia sent its troops to fight alongside the rebel forces, which are holding parts of the country's eastern regions. Reports of Russian invasion have never been backed by conclusive evidence, and the current chief of the Ukrainian general staff recently admitted that his army had never seen regular Russian troops in Ukraine, debunking statements to the contrary by top Ukrainian officials.
"Elsewhere in the world, our Western partners are calling for dialogue between the authorities and the opposition. Everywhere in Yemen, Iraq, Afghanistan, South Sudan. But Ukraine is for some reason an exception. Western colleagues say that in Ukraine the most important thing is to support Kiev's actions," Russian Foreign Minister Sergey Lavrov pointed out on Monday.
Moscow sees Washington as the prime instigator of the mass public protests in Ukraine, which slid into street violence and the downfall of its elected government. The US has long insisted that it had no role other than supporting a legitimate desire of the Ukrainians to get rid of a corrupt government. But in last week's interview with CNN, US President Barack Obama admitted that America was "a power broker" in the transition.
READ MORE: Obama openly admits 'brokering power transition' in Ukraine
"I think president Obama sadly regrets his wording on the interview last night because he de facto admitted as Minister Lavrov also indicated that the US created a de facto coup d'état, brought neo-Nazis in the power, brought oligarchs in power to replace oligarchs that were democratically elected at least," William Engdahl, author of 'A Century of War', commented for RT.
While Washington seems to be undecided on supplying Kiev with more arms to continue its crackdown on the dissenting regions, its other staunch supporter Poland said it is willing to do so, if Ukraine is able to pay.
READ MORE: 'It's business': Poland ready to sell weapons to Ukraine if Kiev has money
"We're open. It is business," Polish Foreign Minister Grzegorz Schetyna said in an interview last week.
You can share this story on social media: