Ukraine wouldn't have civil war if not for West - Putin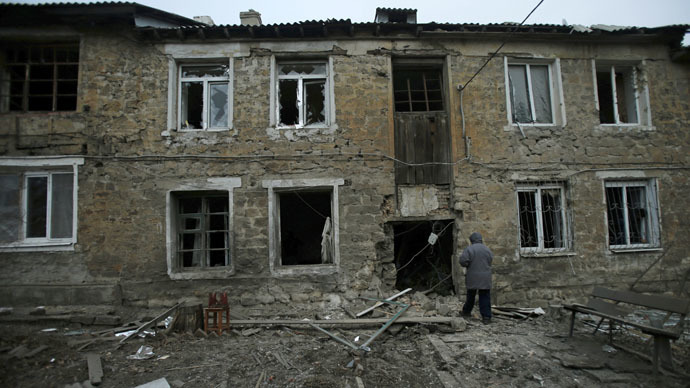 If the West had called the organizers of Ukraine's coup to order and took a different position, there wouldn't be a civil war in Ukraine, believes Russian President Vladimir Putin.
READ MORE:Putin's 2014 Q&A marathon LIVE UPDATES
"I am sure that if such a position was taken, there would be neither civil war in Ukraine, nor the multitude of victims. Our colleagues [in the West] took another position," Putin said speaking at his annual Q&A with the press and public.
He says Moscow is ready to become a mediator to start talks between Kiev and self-defense forces from the east.
"We hope...to reach a political dialogue," said Putin, adding that Russia sees Kiev's military actions in Ukraine as a "punitive operation."
"But it [the operation] is made by Kiev authorities, not vice versa. It's not self-defense forces who sent their troops to Kiev, but the other way round – Kiev authorities sent their forces to the southeast."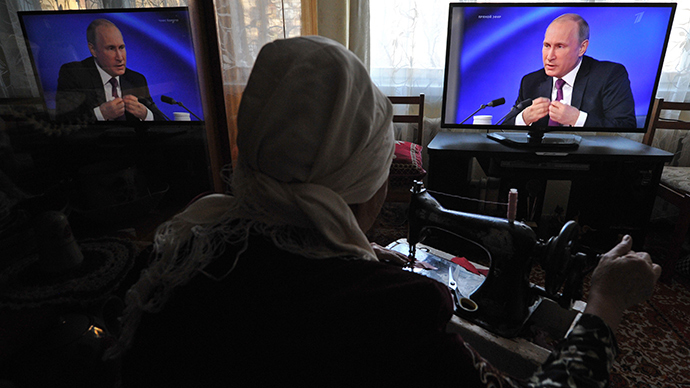 According to the president, if the Kiev government wants peace, then it has to respect the interests of people in eastern Ukrainian regions, not pressure them.
"No doubt [Ukraine's President Petro Poroshenko] wants to regulate the situation and I have no doubts that he is looking forward to it, but he is not alone [in making the decision]."
Putin referred to the statements of Ukraine's former acting president and chairman of the Rada, Aleksandr Turchinov, who said on Wednesday that Kiev's 'anti-terrorist' operation should go on "till the end."
"We hear many warlike statements. I think that President Poroshenko is ready for regulation [of the crisis], but we need concrete actions."
Putin expressed regret that the planned exchange of prisoners between Kiev and self-defense troops in eastern Ukraine on Wednesday was disrupted by Kiev.
"Yesterday [Wednesday] there was an agreement to exchange 30 people. The representatives of self-defense troops arrived at the place of prisoners' exchange; an official from Kiev authorities appeared and said 'No. We won't exchange [the prisoners] until the Minsk talks.'"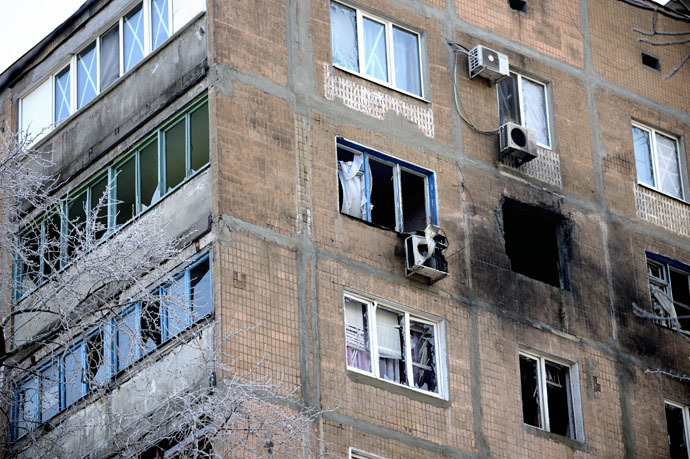 Putin urged both Kiev and self-defense forces to exchange prisoners before the Christmas holidays using the 'all for all' principle.
"I think they [both parties] should exchange all for all without any conditions."
Putin cited information from self-defense forces, saying that in the lists of exchange prisoners there are people who hadn't been detained war-stricken Donetsk or Lugansk Regions.
"When the lists emerge, it turns out that from Ukrainian side there are certain people who had been arrested not in connection with military action in the country's southeast, but somewhere in Odessa or Kherson [southern Ukraine]."
"Anyway I believe that people [prisoners] returned home before New Year, before Christmas, regardless of circumstances."
Putin also spoke on the reports of Russian citizens fighting alongside self-defense forces in the Ukraine's east.
"All those people who fulfill their duty or voluntary take part in some military action, including those in Ukraine's southeast are not mercenaries, as they don't get money for that," he said.
You can share this story on social media: