Massive blaze devastates Russian library housing unique documents, ancient texts (PHOTOS, VIDEO)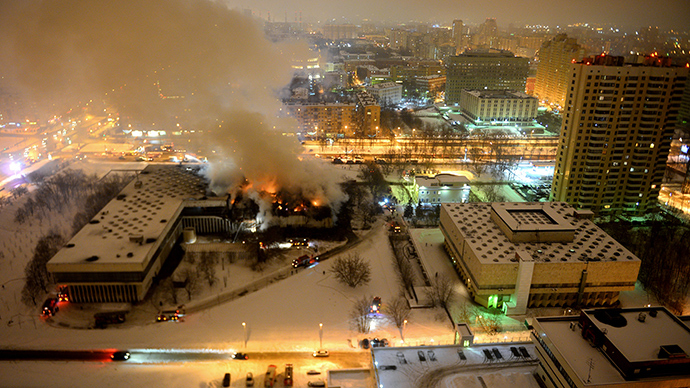 One of Russia's largest academic libraries, which contains millions of unique historic documents, has gone up in flames in Moscow. A part of the building's roof collapsed before dozens of fire fighters managed to contain the blaze.
UPDATE: 'Like Chernobyl': Millions of unique texts feared lost in Moscow library fire (PHOTOS)
The fire erupted at around 10 pm local time (7 pm GMT) on the third floor of the Academic Institute of Scientific Information on Social Sciences (INION) in Moscow. According to the Emergency Situations Ministry, some 2,000 square meters were engulfed in flames, prompting the roof to cave in.
According to preliminary data, the cause of the fire could be a malfunction of the electrical system, a law-enforcement source told RIA Novosti news agency. "A short circuit in the electrical system is currently being regarded as a primary lead," he said Saturday.
На юго-западе Москвы сгорела библиотека ИНИОН РАН. https://t.co/vm2LCuZiHxpic.twitter.com/qBO8AH2xxb

— Петр Петров (@VolschebnikNNT4) January 31, 2015
A total of 147 rescue workers and 38 pieces of fire-fighting equipment were used to contain the fire shortly after midnight, the ministry said.
No one was killed in the ferocious inferno, and the air quality around the site is within acceptable limits, officials said.
Пожар уничтожил 1/2 здания Института научн.информации по обществ.наукам (ИНИОН)-крупнейшую научную библиотеку России pic.twitter.com/LEKLILFdfG

— Financial Guard (UA) (@finvarta) January 31, 2015
With 49,000 readers and 330 employees, INION is the largest research center in Russia in the fields of social sciences and humanities. Its collection consists of 14.2 million texts in both ancient and modern European and Asian languages, including rare 400-year-old editions. What's more, it has one of the biggest collections of books in Slavic languages in the country.
The library, founded in 1918, also can boast the Russia's most complete collection of documents of the League of Nations, the UN, and UNESCO, as well as parliamentarian reports of the United States (since 1789), the UK (since 1803), Italy (since 1897), and many others.
INION has 874 partners in 69 countries of the world, and participates in international book-exchange programs. It is a member of the International Federation of Library Associations.
You can share this story on social media: