​Inferno engulfs residential tower in Siberia (VIDEO)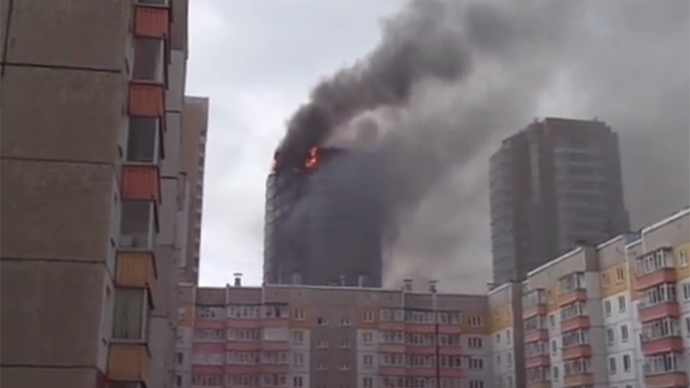 A 25-story residential building has caught fire in the Russian city of Krasnoyarsk, in south-western Siberia. Residents have being evacuated as firefighters flocked to the scene.
Pictures and footage from the incident showed heavy clouds of smoke rising in the sky from a tall tower, one side of which was almost completely engulfed in fire.
The fire has seriously damaged several cars parked nearby, local media reported.
According to preliminary reports, there were no casualties in the fire, as the residents were swiftly evacuated from the building.
"The house is has a vinyl siding and plastic-furnished balconies. This is what is burning," Elena Yastrebkova, spokeswoman for the local office of the Emergencies Ministry told RIA Novosti.
#Россия #Красноярск #пожар 25-эт. дом Шахтёров,40 люди во дворе руками растаскивали машины, чтобы пожарным проехать.. pic.twitter.com/0eqUprQXez

— Валентина Шиндова (@Valya_Shindova) September 21, 2014
Some 72 firefighters were working at the scene. They have deployed 20 water tankers and 3 ladders and a helicopter to combat the fire.
The fire was extinguished at 17:45 local time [ 09:45 GMT], said Yakimov, adding that the area of the fire was about 2,000 sq meters.
The residential tower "Novaya Vysota" [New Pinnacle] was built in 2001, reports the local branch of the Komsomolskaya Pravda newspaper. It has one entrance and 120 apartments.
An eyewitness told the newspaper that the fire started on one of the lower floors and then spread very quickly over the facade of the building.
You can share this story on social media: