Israel FM Lieberman orders party to hand out free copies of Charlie Hebdo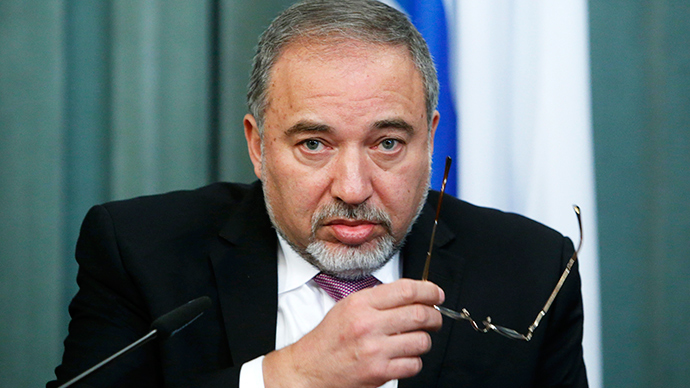 After a leading Israeli bookstore cancelled a launch event for the 'Survivors' edition of Charlie Hebdo, outspoken politician Avigdor Lierberman instructed members of his party to buy thousands of copies and hand them out for free.
Steimatzky, the biggest book chain in the country, had imported 700 copies of the commemorative edition of the French satirical magazine, and planned to present them at a large outlet in Tel Aviv on Monday, but then decided to sell the magazine only online after a political storm erupted.
"You cannot turn the State of Israel into the Islamic State. We won't allow radical Islam to terrorize us and turn the State of Israel into a state that submits to threats and hurts freedom of speech. Steimatzky's behavior is unreasonable and inappropriate, it's surrendering to terrorism," the leader of the Yisrael Beytenu party, told the media.
"I have instructed the young Yisrael Beytenu activists to purchase thousands of copies of the latest issue of the satirical magazine and distribute them to the public at the location where the Steimatzky event was supposed to be held."
.@beytenu protest @ Steimatzky 4 not selling Charlie Hebdo. Sharon Gal: we won't give in 2 terror or its supporters pic.twitter.com/Pk4Yygn1tX

— Lahav Harkov (@LahavHarkov) January 25, 2015
Last week, Muslim Knesset member Massoud Ghanayem wrote a letter to Prime Minister Benjamin Netanyahu, pleading with him to ban the magazine, which commemorates the death of 12 members of staff killed by Islamist extremists by publishing a defiant issue with a caricature of Mohammed on the cover.
He said that the sale of the magazine, "is a serious step, very dangerous and stupid, and is not freedom of speech but rather a serious blow to what Muslims hold most holy that will lead to great uproar and anger among the Arabs and Muslims in [this] country in particular, and in the world in general, and no one can know how it will end."
"I hereby appeal to your sense of honor; please personally intervene to prevent Steimatzky from distributing the magazine and the damaging images of the Prophet Mohammed, lest the Israeli government and Steimatzky be responsible for every outcome," wrote the member of the parliament's Islamic Movement.
READ MORE: BBC Arabic boss says Paris attackers should not be labeled 'terrorists'
His words were echoed by the Higher Arab Monitoring Committee, an official body that oversees relations between Jews and Palestinians, which called Charlie Hebdo a "provocation." A pro-Arab human rights group also stated that it would attempt to obtain a court injunction against the magazine.
About a fifth of Israel's 8 million citizens are Muslims.
Lieberman, a Russian émigré, known for his staunch right-wing views, accused those calling for the ban on Charlie Hebdo of "crossing another red line." Lieberman, who is fighting for his political career ahead of March elections, after becoming embroiled in corruption claims, also alleged that Arab politicians "want to destroy the Jewish state."
READ MORE: Netanyahu massacred Gaza like Paris terrorists – Turkish PM
Steimatzky, caught in the middle, said it decided to sell the issue online instead –as its withdrawal from the Tel Aviv store would avoid aggravating its staff, and offer Israelis from other cities access to the magazine.
"This isn't surrender to pressure, but rather consumers who want fair access to the issue and employees who are bothered by it," assured a statement from the company, which has stocked Charlie Hebdo for the past three years.
The 'Survivors' edition, which has been purchased more than 7 million times around the world, went on sale on Monday, at a price of about $9 dollars, and with no buyer allowed to get their hands on more than two copies.
You can share this story on social media: