Netanyahu massacred Gaza like Paris terrorists – Turkish PM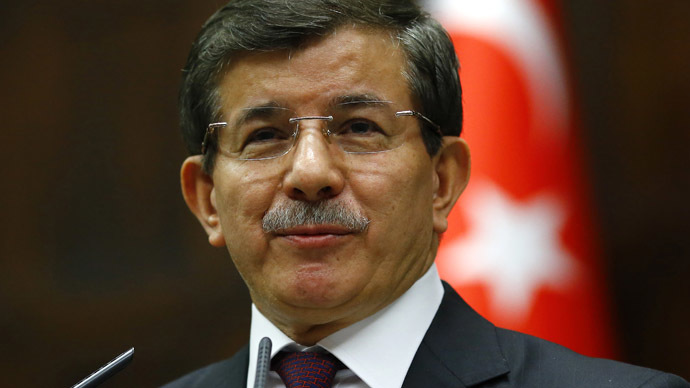 Turkish Prime Minister Ahmet Davutoglu has made a parallel between last summer's Israel-Gaza conflict and the recent attacks in Paris, putting equal blame "against humanity" on Israeli PM Benjamin Netanyahu and the Islamist terrorists.
At a Thursday news conference in Ankara Turkish Prime Minister Ahmet Davutoglu compared Israel's bombardment of Gaza in the summer of 2014, as well as the storming in 2010 of a Turkish-led Gaza bound aid convoy which lead to the deaths of nine Turks, to last week's attacks in Paris.
READ MORE: 'Je suis Palestinian': Israeli ambassador furious over MP's Netanyahu tweet
"Just as the massacre in Paris committed by terrorists is a crime against humanity, Netanyahu, as the head of the government that kills children playing on the beach with the bombardment of Gaza, destroys thousands of homes ... and that massacred our citizens on an aid ship in international waters, has committed crimes against humanity," Davutoglu said.
Alongside 40 world leaders, Davutoglu attended Sunday's rally in Paris to commemorate the 17 victims of the three days of terror in the French capital.
READ MORE: 'Terrorism has no religion': Muslims in France and abroad pay tribute to Charlie Hebdo victims (PHOTOS)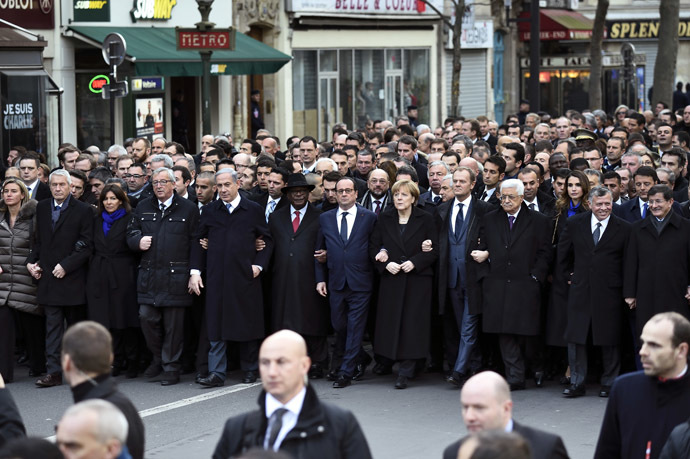 Davutoglu also slammed the caricature in the tribute edition of Charlie Hebdo depicting the prophet Mohammed holding a sign saying "Je suis Charlie."
"The publication of such caricature is a provocation. We cannot accept insults to the Prophet," he said.
On Wednesday, a Turkish court ordered access to websites that show Charlie Hebdo's front cover with that image to be blocked, as it posed a threat to "public order," according to Reuters.
READ MORE: GOP congressman compares Obama to Hitler after Paris rally absence
The words of Prime Minister echoed Turkish President Recep Tayyip Erdogan, who said on Monday that he could "hardly understand how he [Israeli Prime Minister Netanyahu] dared to go" to the Sunday rally. He added, "You should first give an account for the children and the women you have killed," Reuters reported.
"The West's hypocrisy is obvious. As Muslims, we've never taken part in terrorist massacres. Behind these lie racism, hate speech and Islamophobia," Erdogan said.
The critics triggered a war of words, as Israel's Foreign Minister Avigdor Lieberman called President Erdogan an "anti-Semitic bully" on Wednesday.
"If Israel is looking for a bully, it needs to look in the mirror," was Davutoglu's reply.
On Thursday, the Turkish president's spokesman issued a statement, saying "The Israeli government must halt its aggressive and racist policies instead of attacking others and sheltering behind anti-Semitism."
READ MORE: Israel calls Erdogan 'anti-Semitic bully' hindering war on terror
Relations between Israel and Turkey were shattered by the assault (https://www.rt.com/news/international-community-condemns-israel/) on an aid convoy in 2010, when Israelis opened fire on passengers and crew of one of the ships in the flotilla with humanitarian aid to Gaza on board. Nine Turkish activists were killed.
During a 50-day assault by the Israeli Defense Forces on Hamas-ruled Gaza last summer over 2,100 Palestinians were killed, most of them civilians. The Israeli death toll was 73, mostly soldiers.
You can share this story on social media: