UN's first ever meeting on anti-Semitism sees France, US, Saudi Arabia speak out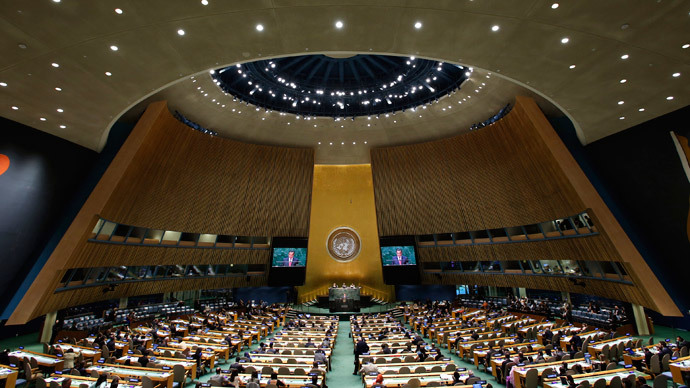 The UN has dedicated a separate meeting to anti-Semitism, citing a global rise in violence against Jews. About half of UN member states attended, with surprise speakers such as the Saudi ambassador, who equated anti-Semitic crimes with Islamophobia.
READ MORE: Anti-Semitic attacks soar across Europe amid Israel's operation in Gaza
"Faulting the Jews is once again becoming the rallying cry of a new order of assassins," French philosopher Bernard-Henri Levy said in a keynote address to UN states on Friday. He denounced what he called a "radical inhumanity" in a rising hatred towards Jews.
US Ambassador Samantha Power also spoke at the meeting, calling for nations to take a stand against "this monstrous global problem."
UN holds FIRST anti-Semitism conference Watch: http://t.co/CQUx9S3WLhpic.twitter.com/Mj0dFG20tk

— Ruptly (@Ruptly) January 23, 2015
She added that anti-Semitism was an increasing domestic concern in the US as well and cited some shocking statistics from an FBI report, revealing that almost two-thirds of religion-based crimes in 2012 were committed against Jews.
"When the human rights of Jews are repressed, the rights of other religious and ethnic groups are often not far behind," she said.
A seemingly unexpected speaker at the meeting was Saudi Arabia's Ambassador Abdallah Moualimi, who represented the 57-nation Organization of Islamic Cooperation. He stressed that Islamic countries denounce all actions that lead "to hatred, anti-Semitism, Islamophobia."
Moualimi also stated that anti-Semitic crimes and Islamaphobia have many similarities in their essence. "We have witnessed with growing concern the increase in hate crimes around the world, and we are very concerned because some arbitrarily reject their responsibilities in this regard. Anti-Semitism and Islamaphobia and all crimes that are based on religious hate are inextricably linked, they're inseparable."
He pointed to a close connection between "the increase in hate crimes, extremism, and violence and anti-Semitism" and Israel's occupation of Palestinian territory, political crises, economic recession and policies that benefit only the powerful players. Moualimi concluded that a dialogue would be the most effective step to resolving these issues.
READ MORE: 100 hate crimes: UK Jews targeted following Israel offensive in Gaza
Levy, meanwhile, asked the attending UN members for new ways to argue against anti-Semites, including those who call Israel an "illegitimate state" and deny the Holocaust: "It is up to you, who are the faces of the world, to be the architects of a house in which the mother of all hates would see its place reduced … May you in a year's time, and in years after that and every other year, reconvene to observe that the mobilization of today was not in vain."
Israel cooperates w/ other countries to initiate UNGA Special Meeting to say #No2Antisemitismhttp://t.co/VPowyY3QJMpic.twitter.com/VoJuER0x1y

— Israel Foreign Min. (@IsraelMFA) January 22, 2015
The meeting was of an informal nature, with only half of the 193-member states in attendance.
Assembly spokesman John Victor Nkolo confirmed to AP that despite discussing the topic of anti-Semitism during other UN sessions, it was the first time the whole meeting was dedicated to the issue.Thirty-seven UN members have requested the session by sending a letter to the assembly President Sam Kutesa on October 1. The nations demanded a response to "an alarming outbreak of anti-Semitism worldwide."
Incidentally, the meeting came in the wake of the deadly Charlie Hebdo terror attacks in France, which included a hostage situation in a Paris kosher store. Gunman Amedy Coulibaly, who claimed he swore allegiance to Islamic State and was acting in retaliation for "attacks on Muslims" in the Middle East, killed four French Jewish hostages at the store before he was gunned down by police.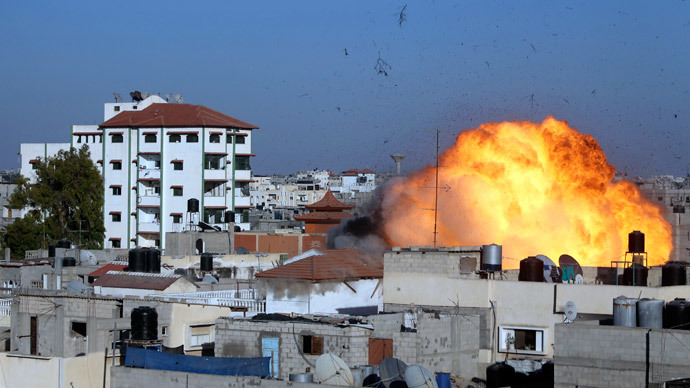 But anti-Semitic crimes first surged earlier this past summer, after Israel began its 50-day war in Gaza. The conflict took the lives of over 2,000 people, the vast majority of them Palestinians, and drew heavy international criticism.
READ MORE: Israel must be held criminally accountable for Gaza war crimes – Human Rights Watch
Attacks in Europe ranged from physical assaults, firebombing of synagogues and calls for violence against Israelis. The Jewish population in Germany even resorted to placing armed guards at its doorsteps ahead of Yom Kippur celebrations back in the fall, according to media reports.
Other deadly attacks included shootings at the Belgian Jewish Museum, when at least three people died, and the Jewish school in southwestern France, where a teacher and three children were killed.
You can share this story on social media: