'No military equipment' crossed at observed Russia-Ukraine border checkpoints - OSCE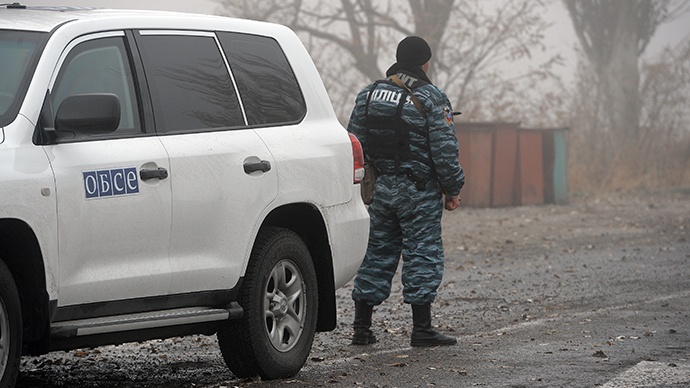 The OSCE mission in Ukraine has not registered any movement of military vehicles on the border between Russia and Ukraine, the group's newly released statement says.
The Organization for Security and Cooperation in Europe is speaking for the two Border Crossing Points (BCPs) it monitors - "Donetsk" and "Gukovo".
"At the two BCPs the [Mission] did not observe military movement, apart from vehicles of the Russian Federation border guard service," the report reads.
READ MORE: Heavy weapons in Ukraine must be pulled back urgently – 'Normandy Four'
The mission says overall border crossings have decreased at both the check-points.
The Ukrainian Security Council accused Russia on Monday of sending troops across the Ukrainian border. The security officials said two battalions had crossed the frontier, and promised to provide proof.
Moscow dismissed the accusations as absurd.
"Yesterday's claims by Kiev of alleged Russian troops movement over the Russia-Ukraine border don't stand any criticism. That's absolute nonsense," said Igor Konashenkov, spokesman for the Russian Ministry of Defense. He described the claims as "hallucinations of 'Russian invasion' on the part of the main protagonists in the military solution to the conflict in eastern Ukraine."
READ MORE: New military draft starts in Ukraine amid intensified assault on militia-held territories
The OSCE does mention people in military-style clothing moving both to and from Ukraine.
"The OT [observer team] observed 469 persons in military-style clothing crossing the border at the Donetsk BCP individually and in groups, 234 persons entered the Russian Federation while 235 left for Ukraine," the report says.
One battalion may usually consist of 300-800 troops with the least number of soldiers in a tank battalion - around 170 people.
Russian Foreign Minister Sergey Lavrov denied on Wednesday allegations of a Russian military presence in southeastern Ukraine. He called on those who believe the opposite to prove their point.
"I say it every time: if you are so sure in stating that, confirm it with facts. But no one can or wants to provide them," he said.
You can share this story on social media: