Heavy weapons in Ukraine must be pulled back urgently – 'Normandy Four'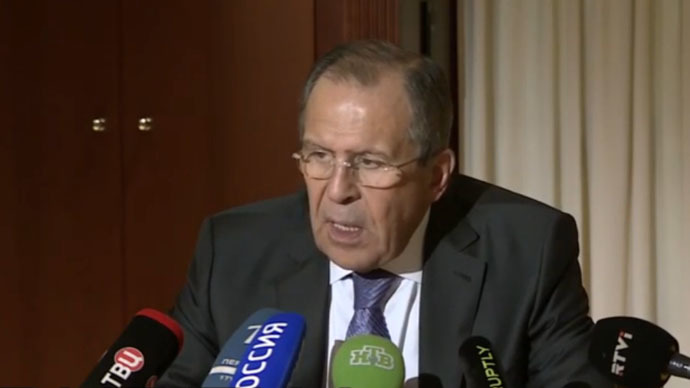 Foreign ministers of France, Germany, Russia and Ukraine have agreed to strongly support the pullback of heavy artillery by both sides in the Ukrainian conflict, Russian FM Sergey Lavrov said. The Normandy Four also urged the reactivation of talks.
"The most important decision adopted today...was strong support for immediately withdrawing heavy artillery from the line of contact, which has been established in the Minsk agreements," Lavrov said.
Following talks that ended late on Wednesday near Berlin, German Foreign Minister Frank-Walter Steinmeier said that progress has been made and an agreement had been reached on establishing security zones between the Kiev military and eastern Ukrainian militia.
READ MORE: New military draft starts in Ukraine amid intensified assault on militia-held territories
Lavrov added that the 'Normandy Four' called for the activation of the contact group for further meetings in order to agree on a peaceful settlement for the conflict in eastern Ukraine, as well as proposing the creation of more working subgroups.
The contact group meetings are attended by Russian Ambassador to Ukraine, Mikhail Zurabov, former Ukrainian President, Leonid Kuchma, and representatives of the Donetsk and Lugansk People's Republics and the Organization for Security and Cooperation in Europe (OSCE).
READ MORE: US Army Command delegation to arrive in Kiev this week
The minister stressed that direct dialogue between the Kiev government and the regions is the "key to resolving the Ukrainian crisis." He added that parties involved will be able to begin a real peace process, only when the agreement to pull back heavy artillery is fulfilled by both sides.
Lavrov stated that the Normandy Quartet agreement is fully in line with the conflict de-escalation plan which Russian President Vladimir Putin recently offered to Kiev. According to Lavrov, the eastern Ukraine militia has already agreed with the plan's schedule.
READ MORE: Rewriting history? Polish FM says Ukrainians liberated Auschwitz, Russia puzzled
You can share this story on social media: