French police beat, pepper-spray asylum seekers – Human Rights Watch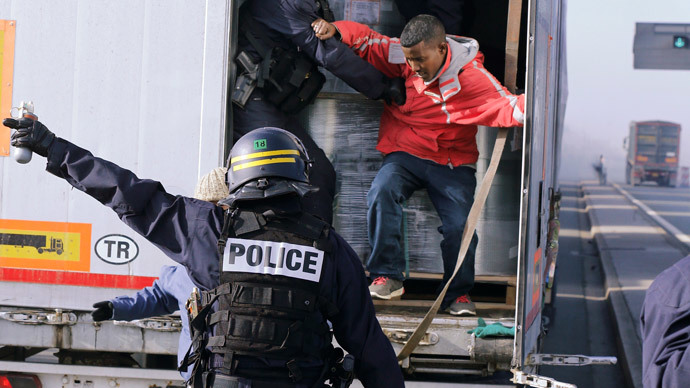 Human Rights Watch (HRW) has urged the French government to stop police brutality against asylum seekers in the port of Calais. The watchdog's new report says migrants live in 'catastrophic' conditions, and are routinely beaten and pepper-sprayed.
The New York-based human rights group interviewed 44 asylum seekers and migrants in Calais for the report it released on Tuesday.
"Nineteen, including two children, said police had abused them at least once, including beatings," the report reads. "Eight had visible broken limbs or other injuries, which they alleged were caused by police in Calais and surrounding areas. Twenty-one, including two children, said police had sprayed them with pepper spray."
READ MORE: 'Social and ethnic apartheid' plagues France - Prime Minister
Those interviewed said police used force against people who strayed outside the asylum seekers' camp, or tried to climb trucks going to the UK.
"They beat me, punched me, my nose was bleeding," the report cites Aziz, 29, from Afghanistan. "[They beat me] with a stick, then they took me out from the lorry and said 'Go! Go to the jungle!'" The "jungle" is a local reference to the largest of the makeshift camps in the area.
"The police checked the truck and found me," Rosa, 25, from Eritrea told HRW. "I said, 'Please help me,' but they beat me and I collapsed outside the truck. They kicked me on the ground."
The watchdog addressed these issues to the local police and authorities, who denied excessive use of force was taking place in Calais.
HRW insists there has to be a thorough investigation into the allegations.
READ MORE: UN urges EU to take refugees despite anti-migrant protests
"The French government should put a stop to any police abuse and honor its commitment to provide housing to asylum seekers. A lasting solution to the crisis in Calais is long overdue," said Izza Leghtas, Western Europe researcher at Human Rights Watch.
Minister of Interior Bernard Cazeneuve, however, criticized the watchdog for not verifying its allegations.
"The seriousness of the charges against the public security forces contained in this document should have led the association to approach those in charge of the police with specific facts," the minister said in a statement.
'They spray you like you're an insect' Police use of pepper spray against #migrants in Calais http://t.co/aYUGOiGy4wpic.twitter.com/LyBvd1vlFm

— Judith Sunderland (@sunderland_jude) January 20, 2015
2014 saw a dramatic surge in the number of migrants fleeing conflict-torn countries such as Syria and Sudan. An estimated 2,500 migrants are in the French port city of Calais. Many are trying to cross the Channel to the UK, believing they will find better living conditions there.
The UK Home Office said in December around 3,000 migrants were prevented from entering Britain every month.
READ MORE: 3,000 migrants a month caught attempting to enter UK – govt
HRW says the dire conditions asylum seekers face in France are forcing them to seek a better life elsewhere.
The report says most migrants in Calais "have no shelter from the cold and the rain, no access to sanitation, and very limited access to running water," and it accuses authorities of an "inadequate and slow" response.
The living conditions for asylum seekers and migrants in Calais are "unacceptable and catastrophic," according to Isabelle Bruand, coordinator for Médecins du Monde in the Nord-Pas-de-Calais region.
READ MORE: Calais migrant crisis: Minister snubs French plea for UK police
A new day center for 1,500 asylum seekers will start full operations in April. Currently, it's providing a limited scope of services.
The Red Cross used to run a center in Sangatte, near Calais, able to accommodate up to 2,000 asylum seekers. But France closed it in 2002, as both the French and UK governments believed the facility was "a pull factor for undocumented migrants seeking to enter the UK."
You can share this story on social media: