'Corpses all over the place': Baghdad blamed for inaction as Yazidis retake villages from ISIS
As Iraq announced that it may need three years to rebuild its army to battle the Islamic State, RT visited Yazidi villages, whose resistance alongside Kurdish forces not only broke the siege of Mount Sinjar but now stand as a barrier against IS advance.
On a visit to the devastated area, RT was shown the gruesome reality of the massacre sites of Yazidi tribesmen who were slaughtered by Islamic State extremists. The odor of death, decay, and horror reign the area, which is seeing little help from the Baghdad government, after over 50,000 Yazidi residents fled this summer's IS advances. The UN says up to 5,000 Yazidi men were executed by radicals, and 7,000 women were captured to be sold into slavery.
"From August, we have seen no Iraqi soldiers, nor any Iraqi help. It's a huge neglect on the part of Iraq. There are peshmerga troops from Kurdistan over here, as well as other Kurdish forces of the region. They've already freed several northern villages," Yazidi military commander Elis Badal told RT.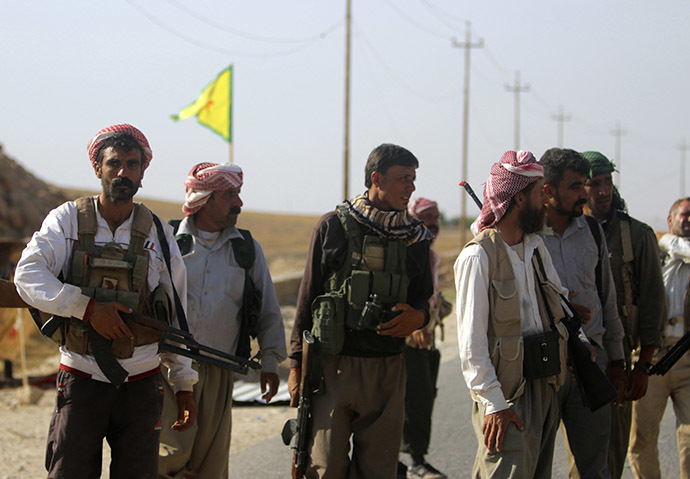 Sending reinforcements to secure Kurdish-Yazidi control over the territory might take a while, as Iraq's Prime Minister Haider al-Abadi has said that building a strong Iraqi army may take up to three years.
"The most difficult thing is to restructure and build the army while you are in a state of war," Abadi told Reuters during a visit to Cairo on Sunday.
"Our aim is to create a balance between both, by restructuring the army in a way that will not impact the fighting," said Abadi. "Restructuring the army could take three years."
And while coalition airstrikes may have helped Kurdish forces, Badal says the Islamic State is omnipresent in the country.
"We began digging up this protective ditch several days ago, to protect the villages here. We have enough forces. And, with Allah's help, we are prepared to fend off any attack by ISIS," Badal told RT.
You can share this story on social media: