3mn copies of Charlie Hebdo's new edition to have Muhammad cartoons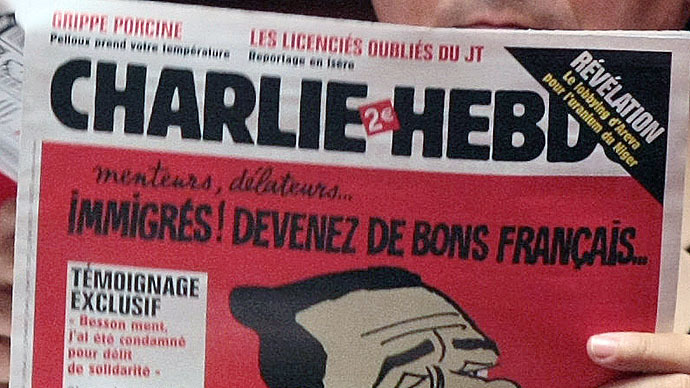 There will "obviously" be Muhammad cartoons in the next edition of Charlie Hebdo, the magazine's lawyer has announced. The print run will be up to three million, instead of the usual 60,000.
READ MORE: 'Stupidity won't win': Charlie Hebdo to publish 1mn copies next week
"We will not give up, otherwise all of this will not have any sense," Charlie Hebdo's lawyer, Richard Malka, said in an interview to France Info radio. "The spirit of Charlie is the right to blasphemy," he added.
One of Charlie Hebdo's cartoonists, Luz, gave an assurance that those who survived the tragedy were busy working on a new edition.
"We are okay, we get by," Luz told another radio channel, France Inter.
"Nightmares are fading away and we are preoccupied with making a magazine."
READ MORE: March for Unity: Over 40 world leaders, 'up to 3mn' rally in Paris against extremism
#UnityMarch: Over 40 world leaders, 'up to 3mn' rally in #Paris against extremism (VIDEO) http://t.co/5mEtZv32zFpic.twitter.com/AEEH6VraoR

— RT (@RT_com) January 12, 2015
The new edition of Charlie Hebdo is scheduled to be released on Wednesday. Due to an increased demand, it will run some three million copies, instead of the usual 60,000, Malka said.
The satirical weekly's distributor, MLP, had initially planned to print one million copies of the issue, which is currently being created by the survivors of last week's shooting.
To satisfy demand, the special issue will be offered "in 16 languages," columnist Patrick Pelloux told AFP. The weekly's publisher hopes the recently gained popularity of the publication, as well as an increase in sales, will save the magazine from economic downfall; it was sliding towards bankruptcy before the attack.
"The sign 'Je suis Charlie' means you have the right to criticize my religion, because it does not matter," Malka said. "No one has the right to criticize a Jew because he is a Jew, a Muslim because he is a Muslim, a Christian because he is a Christian. But you can say anything you want, including the worst things, and we do say them about Christianity, Judaism and Islam, because beyond all of the beautiful slogans, that's the reality of Charlie Hebdo."
Vigil in Toulouse for the victims of Charlie Hebdo attack.Candles lit and pens left as mark of respect #JeSuisCharliepic.twitter.com/v9Z1rFTrPj

— anne sheridan (@annesheridan1) January 12, 2015
The magazine is appealing for donations to help it carry on. "Charlie Hebdo needs you to survive," its website says.
READ MORE: Arson at German paper that reprinted Charlie Hebdo cartoons (VIDEO)

And considerable resources have already been collected.
A million Euros has been donated by the French government to keep the magazine going, Le Figaro reported. 250,000 Euros has been provided by the French Fund for Digital Innovation and another 250,000 Euros are coming from French publishers. The Guardian Media Group has pledged £100,000 (128,000 Euros) in support.
You can share this story on social media: