'Cry for freedom': Hundreds of thousands ready for solidarity march in France
In a bold show of unity in the face of global terrorism, millions will rally across France on Sunday. World leaders converging on Paris will join the hundreds of thousands in a number of French cities. Security has been beefed up massively.
The Sunday rally, dubbed a "cry for freedom", will commemorate the victims of the Charlie Hebdo massacre and comes after three days of standoffs and hostage situations, with one terror suspect still on the run. Latest reports, however, indicate the suspected woman might have been in Syria at the time of the attacks, which took 17 lives, journalists and policemen among them.
"It will be an unprecedented manifestation that will be written in the history books," Prime Minister Manuel Valls said. "It must show the power and dignity of the French people, who will cry out their love of liberty and tolerance."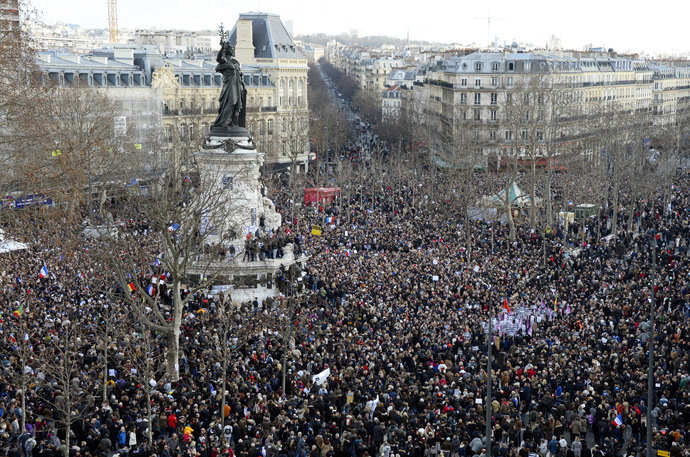 Starting at 14:00 GMT, the rally will have tens of thousands marching down three major routes in the capital. They will be joined by world leaders, including the Palestinian and Israeli leadership, leaders from Germany, Britain, other NATO countries and representatives from the Arab League, as well as the President of Ukraine Petro Poroshenko and Russia's Foreign Minister Sergey Lavrov.
READ MORE: 700,000 rally across France in wake of terror attacks & hostage crises
This is expected to present a formidable security challenge for France's law enforcement, whose presence has been boosted across the board, with tens of thousands already guarding sensitive locations like schools, places of worship and others – more than 2,000 are being deployed in addition.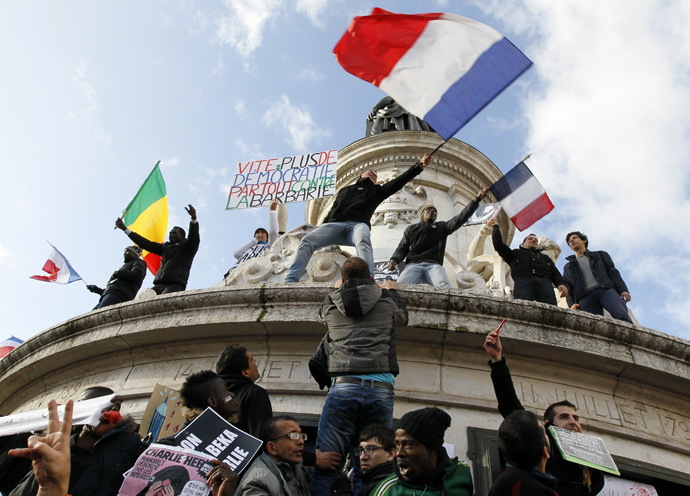 Top US security brass will also arrive, and they will meet with their European counterparts in Paris to discuss an anti-terrorism strategy.
On Saturday, some 700,000 people marched in solidarity in Paris, Orleans, Nice and other cities. Candlelight vigils were held for the victims.
The Yemeni branch of Al-Qaeda is widely thought to be the group that coordinated the Charlie Hebdo attack. A statement sent to several media outlets by an alleged member of the group claimed it as "revenge for the honor" of Prophet Muhammad. The kosher shop situation that transpired later was motivated by similar feelings, that Islam is being berated and mocked by the West.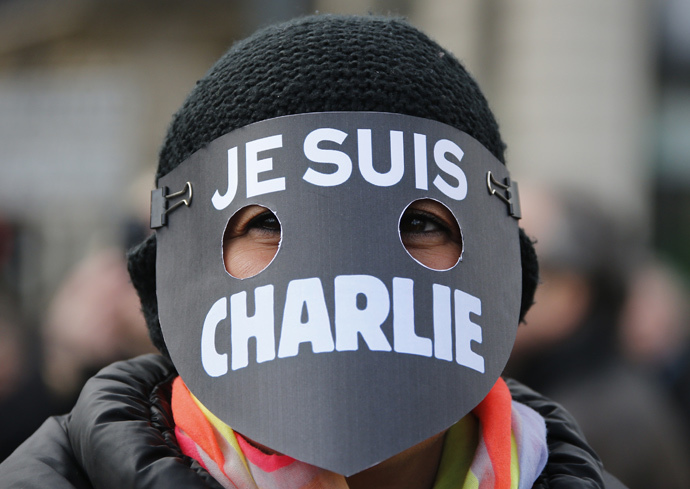 Twelve people, including four noted cartoonists, were killed in the original attack and have since come to symbolize a non-violent fight for freedom of expression across France and the world. The global outcry of sorrow and condemnation followed three tense days, with the Twitter hashtag #JeSuisCharlie ("I am Charlie") gaining some of the widest popularity ever witnessed on the social network, with over five million reposts.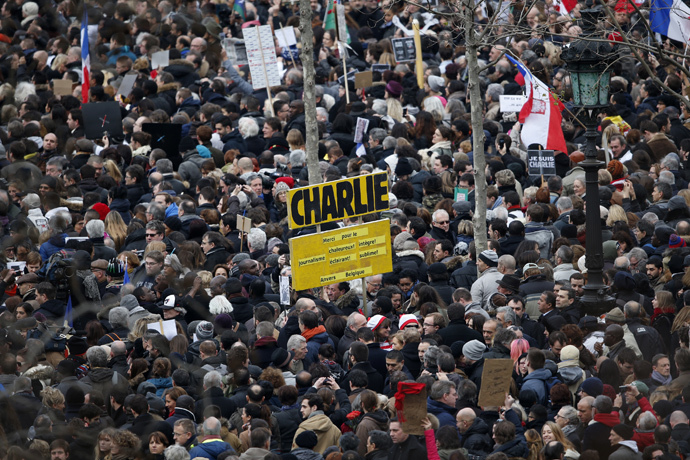 Some news outlets in a show of solidarity reprinted Charlie Hebdo's cartoons. On Sunday, just as world leaders were gathering to discuss security and the global fight against terrorism, one such paper – the Hamburger Morgenpost - was set ablaze. However, police have not yet confirmed that the arson was indeed related to the Hebdo situation. No one was injured in the fire.
READ MORE: Arson at German paper that reprinted Charlie Hebdo cartoons
France is not alone in its quest to send a message to the terrorists. Hundreds of Australians also took to the streets in Sydney. They gathered at Martin Place, which became the scene of a deadly siege in mid-December, to show support for the victims of the French attacks, as the global show of solidarity continues.
You can share this story on social media: