Thousands flee as wildfires rampage through Australia (PHOTOS, VIDEO)
Thousands of Australians are fleeing their homes as wildfires tear through the south of the country, prompting officials to declare a major emergency and advise people to leave the "extremely dangerous" area.
Strong winds have contributed to the rapid spread of the flames, as have dry weather conditions and temperatures reaching 30 degrees Celsius. This has been called Australia's worst since the Ash Wednesday bushfires in 1983.
The most severe of the fires was in South Australia's Adelaide Hills where the flames had incinerated five homes. Across South Australia, CFS state coordinator Brenton Eden said that seven homes have been destroyed in total - a number which could go up overnight, Eden told 891 ABC Adelaide.
It's feared the number of homes lost in #SAFires could double once damage in the Mount Lofty Ranges assessed. #9Newspic.twitter.com/2hXfK2N9tl

— Nine News Adelaide (@9NewsAdel) January 3, 2015
SA Country Fire Service chief officer Greg Nettleton also expressed his opinion that there would be more homes razed by the fires than currently recorded. "I think there are more losses than that from what I've been able to get from my people, but they're not at the stage where we can put an exact number on it," Nettleton said.
Some 2,000 firefighters have been tackling the blaze, with at least a dozen aircrafts aiding operations, reported AP. Thirteen volunteer firefighters have received Injuries while tackling the flames, according to the Australian.
People were advised early Saturday to evacuate the area.
"Residents in the Adelaide Hills are being confronted by a fire which hasn't been seen in the hills since the 1983 bushfires of Ash Wednesday," SA police commissioner Gary Burns said on Saturday morning. "At the moment we have a fire which is extremely dangerous."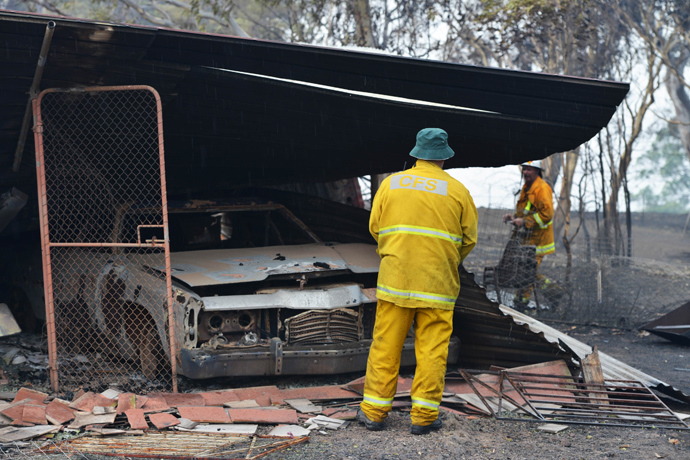 Officials urged hasty departures, stating "your life is at risk". South Australian Premier Jay Weatherill told residents east of Adelaide that: "If you've decided to stay, you need to be aware that the fire will become incredibly scary and could lead you to change your mind at some point. It could be a catastrophic decision for you to leave late," according to AFP.
Strong winds expected to fan SA's worst bushfire in 30 years, despite cooler change: http://t.co/lUZ8g16zmF#SAFirespic.twitter.com/wjvH9OoSp8

— Nine News Adelaide (@9NewsAdel) January 3, 2015
However, by late Saturday the situation was expected to become less severe. Temperatures dropped to approximately 19 degrees Celsius and forecasts suggested increased humidity.
"There should be no sense of relief because the temperatures are somewhat lower, or that there are spots of rain about," South Australia Premier Jay Weatherill told reporters in Adelaide. "The situation remains extremely dangerous and our warnings that were issued earlier today must be heeded."
However, the CFS reported that they were still "behaving erratically and burning freely in all directions" late Saturday.
Updated #SampsonFlat#Bushfire behaving erratically & burning freely in all directions http://t.co/P0O67r4Wb6#EWM

— Country Fire Service (@CFSAlerts) January 3, 2015
In Victoria State, firefighters have been tackling similarly severe fires since Friday. However, only one remains that is still deemed a considerable danger.
One home was destroyed in the western town of Moyston, state Country Fire Service spokesman Mario Xuereb said, reported AP. He again expressed optimism about improved weather conditions facilitating a stronger struggle against the fire.
CFS volunteer Lukas Lane-Geldmacher, saves a dog from the TTG Boarding Kennel. Pic: Dylan Coker. Amazing!! #SAFirespic.twitter.com/hGoHUcUMfr

— lauren smeaton (@laurenskye001) January 3, 2015
Australia frequently has problems with out-of-control wildfires, with 173 people dying and 2,000 homes lost in Victoria in 2009.
The SA Bushfire Recovery hotline has been opened "for people who have lost their home, suffered trauma or other loss - or for others wanting to provide financial donations to support affected communities."
You can share this story on social media: