State of emergency declared in San Diego County as wildfires rage (PHOTOS)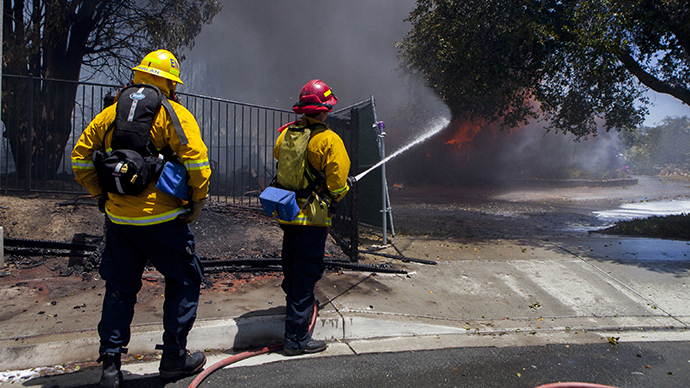 Dry conditions and blistering heat have led to multiple fires in the San Diego County, California area on Wednesday, leading Gov. Jerry Brown to declare a state of emergency. The fires have burnt several homes and prompted thousands of evacuations.
Two fires broke out at Camp Pendleton, a top US Marine Corps base in northern San Diego County. The blazes charred about 100 acres in areas near Interstate 5, causing the freeway to shut down, the Times of San Diego reported. Some Camp Pendleton residents were forced to flee their housing.
A separate blaze, dubbed the Poinsettia Fire, resulted in the evacuation of thousands of residents in Carlsbad – less than ten miles from Camp Pendleton – from over 11,000 homes, schools, and businesses. San Diego Gas and Electric reported that an estimated 2,000 residents in and around Carlsbad were without power, and a number of homes were engulfed in flames, according to Reuters.
View from the sky. Photo courtesy of @cGilbertRun. #carlsbadfire#pendeltonfirepic.twitter.com/wkUUUHi1pD

— San Diego 6 (@SanDiego6) May 14, 2014
In Fallbrook, located about 30 miles northeast of Carlsbad, a brush fire led to a midday evacuation order in areas near Interstate 15.
#MUST SEE: A tornado of #fire caught on video in #FallBrook. #KTLA#KSWB#FIRENADOpic.twitter.com/sbA0Y0lqQq

— Marcus Smith (@MarcusSmithKTLA) May 14, 2014
One of at least 30 homes destroyed by fire in Carlsbad #mapitpic.twitter.com/lsK8vGdd8l

— Rob McMillan (@ABC7RobMcMillan) May 14, 2014
Gov. Brown declared a state of emergency in the area hours after conditions prompted San Diego County officials to proclaim a local emergency.
The state Office of Emergency Services announced that federal aid is open to local authorities combating the Poinsettia Fire. A fire management assistance grant from the Federal Emergency Management Agency will reimburse the much of firefighting costs for responding local, state, and tribal agencies working against the fires, according to the state OES.
"We welcome FEMA's approval of Governor (Jerry) Brown's request for assistance," said state OES Director Mark Ghilarducci. "Fires like the Poinsettia Fire can put a strain on resources, particularly at a time when dry conditions due to the drought, above normal temperatures and winds have increased the wildfire threat significantly."
The Wednesday fires follow the outbreak of Tuesday's Bernardo Fire, also in the San Diego area. Bernardo caused thousands to evacuate their homes in and around the city of San Diego, into the evening hours, until fire crews got a handle on the blaze. The fire torched 1,500 acres of brush.
"We're very worried about today," said Lee Swanson, a spokeswoman for San Diego Fire and Rescue. "We're looking at gusting winds to 50 miles per hour, humidity at 5 percent and temperatures reaching 100 degrees (Fahrenheit). Those are dangerous conditions."
The outbreak of fires in Southern California mark the beginning of the area's wildfire season, exacerbated this year by record drought levels and unseasonably hot temperatures in the region.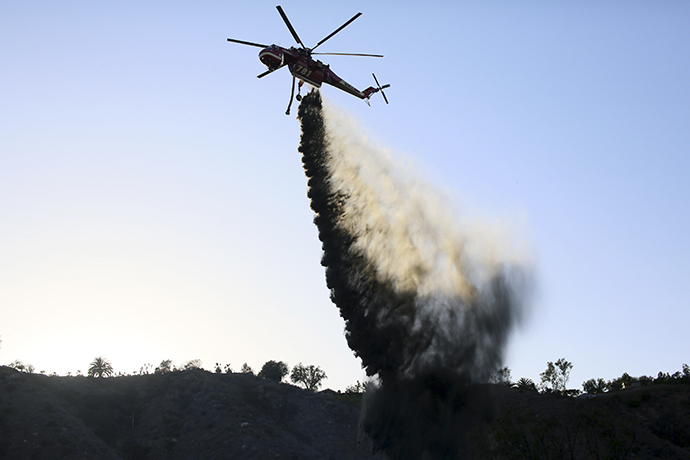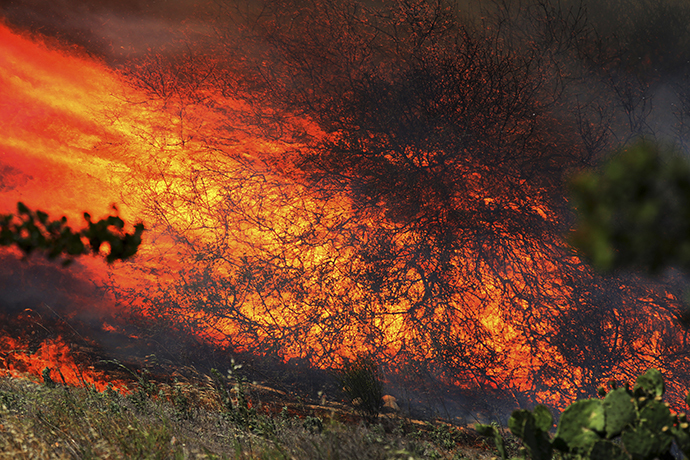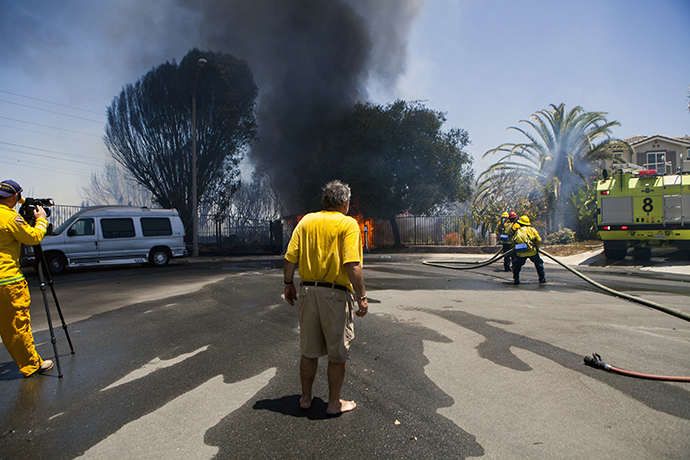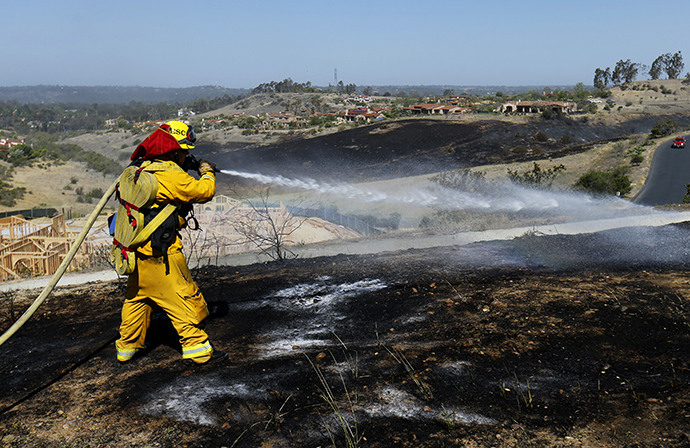 You can share this story on social media: