Mystery 'meteor' burning over Australian sky baffles eyewitnesses (VIDEO)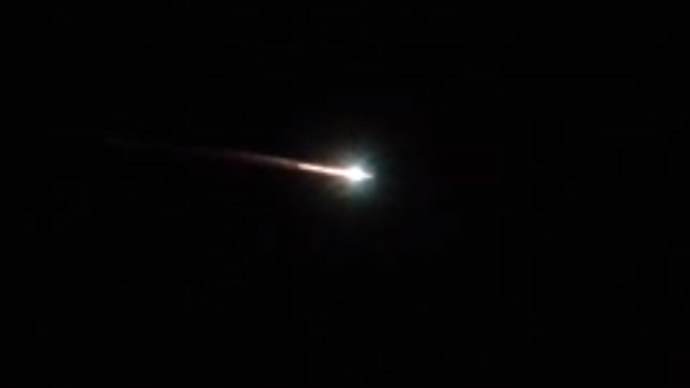 A bright object that dazzled in the sky over Australia left people confused. Social media was abuzz with the pictures of the mystery fireball, with users claiming it was either a plane crashing into the ocean or a 'meteor.'
A round object with a burning tail was spotted in the sky over Victoria, NSW, Tasmania and South Australia at about 9:45pm local time on Thursday night.
Here's the observations of tonight's space junk #fireball over eastern Australia @TiffanyDay@astroduff@geoffnotkinpic.twitter.com/0t91pm5ZPb

— David Finlay (@ClearSkiesTV) July 10, 2014
Airservices Australia spokesman Paul Sadler told ABC Radio that pilots and air traffic controllers also reported the flaming object.
"A number of pilots reported it to air traffic controllers (and said) it was just a spectacular sight of a meteorite entering the Earth's atmosphere," he said.
The "light show" lasted for around 30 seconds, but eyewitnesses were fast to post pictures and start speculating online about what the object could be.
Some of them claimed the fireball was a meteor and others suggested it might have been a plane on fire.
"We received numerous emergency calls from people concerned," Country Fire Authority spokeswoman Andrea Brown said, according to Herald Sun. "People believed they had witnessed an aircraft crashing into the sea."
@774melbourne Not the best photo, but here's my quick snap of the #meteor over #Melbournepic.twitter.com/Kg70T6NrVN

— Nathalie J. Berger (@najube) July 10, 2014
About as good as my camera phone could manage... This was the comet/asteroid/aliens over north Melbourne pic.twitter.com/eY5YDvkZll

— Craig Hamnett (@craighamnett) July 10, 2014
Astronomers quickly dispelled all guesses and said the mystery meteor clearly had signs of a man-made object.
"The images I've seen show a lot of different colors," Astronomical Society of Victoria president Ken Le Marquand told AAP. "When you get lots of colors, it usually means there are different materials in there - man-made materials," he said.
The Nobel Prize winning Australian National University Astronomer Brian Schmidt concluded that "our fireball may well have been a piece of space junk."
Schmidt's assumption was supported by Monash astronomer Dr. Michael Brown, who said that "space junk crossed my mind, too."
I believe this is the satellite whose 3rd stage came to ground last night http://t.co/QoUoB5Tizq

— Brian Schmidt (@cosmicpinot) July 10, 2014
Sydney observatory astronomer Melissa Hulbert made things more clear, saying that what was believed to be a meteor was more likely part of a Russian satellite launched from Kazakhstan.
"It looks like it was the upper-stage of a Soyuz's rocket that was launched a few days ago," Hulbert said.
"It's kind of like the Apollo mission," she said. "Parts would be dropped off at various points throughout the mission."
According to the local Merimbula News Weekly, the Satview Tracking Satellites forecasted space junk to re-enter the earth's atmosphere on the night of July 10 and July 11.
Australian fireball: US @SpaceTrackOrg [corrected] confirms reentry of Soyuz rocket stage 40077 at 1142 GMT+/- 1 min over 35S 146E

— Jonathan McDowell (@planet4589) July 10, 2014
You can share this story on social media: