​Year of love: Heart-shaped emoji named 'word of the year'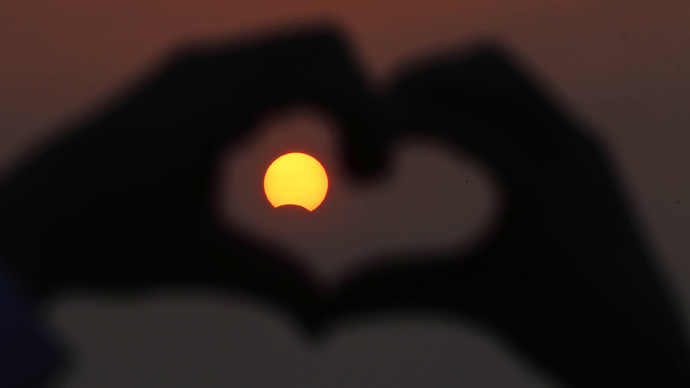 For the first time ever the most used word of the year is actually not a word – it's a graphic symbol. The heart-shaped emoji topped an annual survey by the Global Language Monitor, having appeared billions of times a day around the world.
Hashtag and Blood Moon – an effect caused by lunar eclipse – were among other most frequently used words in 2014 blogs, Twitter and Facebook, as well as in 250,000 global print and online media sources, according to the US based company analysis.
READ MORE: 'Blood Moon' eclipse wows Pacific sky-gazers (VIDEO, PHOTOS)
"The English Language is now undergoing a remarkable transformation unlike any in its 1400 year history – its system of writing, the Alphabet, is gaining characters at amazing rate," the company's president and chief word analyst Paul JJ Payack said, referring to the new "ideographs or pictographs," aka emoji and emoticons.
READ MORE: Selfie, hashtag & tweep make it to Webster's among 150 new words
The graphic trend emerged in Japan in the 1990s, having been widely used by internet users globally in various instant messaging programs, and becoming even more popular with further development of smartphones. The 'three words – eight letters' can now be easily expressed with just a click of one symbol ❤.
There are some 1,000 emoji characters officially recognized by Unicode Consortium – the official keepers of coding that forms the basis of the internet, according to the report. Almost 40 new additions are due for approval in June 2015.
The survey studies not only words, but also publishes charts of phrases and names, aiming to write a history of each year with mostly used English-language words.
Ebola is on top of this year's Names list, followed by Pope Francis, MH370, Ice Bucket Challenge and Crimea. "Hands Up, Don't Shoot," used by demonstrators protesting against the killing of an unarmed teenager in Ferguson, topped the Phrases rating.
Previous years' wordy finalists included "Fail," "Apocalypse/Armageddon," "Occupy" and "Fracking."