Selfie, hashtag & tweep make it to Webster's among 150 new words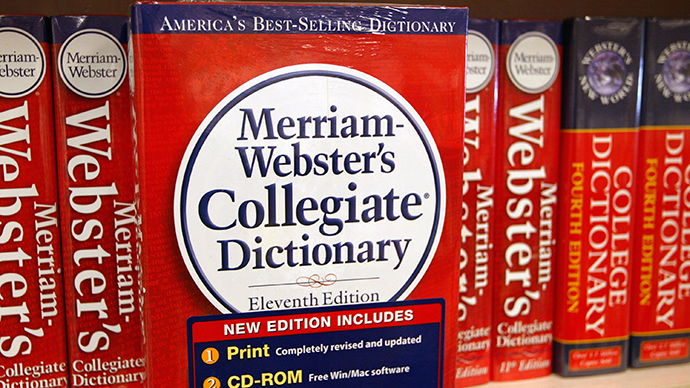 America's best known dictionary the Merriam-Webster has announced more than 150 new words and definitions for 2014, with many of them referring to the growing influence of technology, the internet and social networking.
Many of the new words refer to a meeting of pop culture and technology, such as 'big data' and 'unfriend', where someone removes someone else from a list of designated friends on a social networking site such as Facebook.
"So many of these words show the impact of online connectivity to our lives and livelihoods. 'Tweep', 'selfie', and 'hashtag' refer to the ways we communicate and share as individuals. Words like 'crowdfunding', 'gamification', and 'big data' show that the Internet has changed business in profound ways," Peter Sokolowski, an editor for Merriam-Webster said in a statement Monday.
Other words, which refer to the huge digital revolution in our lives, include 'catfish', which has the added definition of referring to a person who creates a false social networking profile for deceptive reasons.
And 'digital divide', which first began to appear in 1996 and refers to the economic, educational and even social inequalities between those who have access to the internet and those who do not.
But other new words refer more to pop culture than the technology revolution. 'Pho' refers to a soup made of beef or noodles and is originally a Vietnamese word. It is a reflection of the popularity of the dish amongst Americans.
While 'Poutine', which comes from Canada is a dish of French fries covered with gravy and cheese and 'turducken' is a boneless chicken stuffed into a boneless duck, which is then stuffed into a boneless turkey.
Other words appear to have crept over the Atlantic from Britain's celebrity and royals obsessions such 'fangirl', a woman who is extremely overenthusiastic fan of someone or something else, and 'baby bump', the enlarged tummy of a pregnant woman, usually used by British tabloids to describe pregnant celebrities.
Others such as 'fracking' have grown from new technological advances unrelated to the digital revolution. Fracking, which is otherwise known as hydraulic fracturing is where fluid is injected in shale rock beds at high pressure in order to extract oil and natural gas deposits.
One of the more colloquial words to have made into the Merriam-Webster is 'Yooper', a native or resident of the Upper Peninsula of Michigan, on the US Great Lakes.