Afghan 'kill list' leak: NATO risked civilian lives by targeting low-level Taliban fighters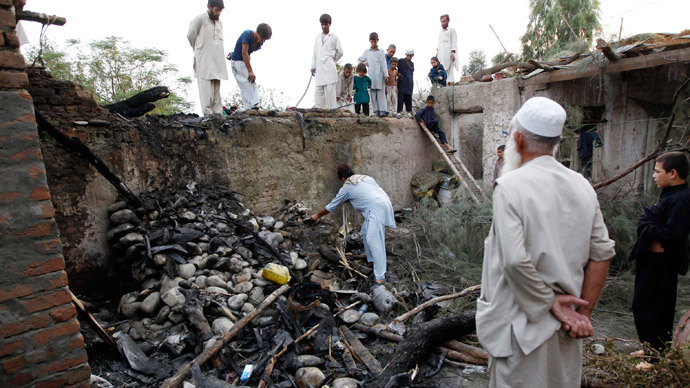 Besides targeting top Taliban leaders, NATO forces in Afghanistan included low-ranking fighters and drug dealers on their list of "legitimate" targets, risking civilian lives in a wider airstrike campaign, Der Spiegel reported, citing Snowden archives.
Classified intelligence files from the NSA, GCHQ, and the International Security Assistance Force (ISAF) from the archive of whistleblower Edward Snowden, studied by Der Spiegel, include a list of the Western alliance's "targeted killings" in Afghanistan. The material covers the period from 2009-2011, when US General Stanley McChrystal and then-General David Petraeus led operations during the beginning years of Obama's presidency.
Contrary to the declared objective of winning the fight against the insurgency, the 'Kill List' – or Joint Prioritized Effects List, with names numbering at times as high as 750 – proves for the first time that NATO and US forces didn't just target Taliban leadership, but also eliminated mid- and lower-level members of the group on a large scale, according to Spiegel.
READ MORE:Afghan civilian casualties, injuries to reach 10,000 in 2014 – UN
Other revelations show that when an operation could result in too many civilian casualties, ISAF headquarters in Kabul was contacted. However, bodyguards, drivers, and any other male attendants were considered enemy combatants; only women, children, and the elderly were treated as civilians.
"The rule of thumb was that when there was estimated collateral damage of up to 10 civilians, the ISAF commander in Kabul was to decide whether the risk was justifiable," an ISAF officer who worked with the list for years told Spiegel.
General Petraeus boasted to diplomats in Kabul in August 2010 that at least 365 insurgent commanders had been killed in just three months, marking an average of about four killings day.
READ MORE:America's Afghan war bill: $1 trillion and rising!
One document showed a not much understood expansion of the 'War on Terror' to include a 'War on Drugs.' An NSA document included a United Nations estimate that the Taliban was earning $300 million a year through the drug trade. It went on to state that some narcotics traffickers were identified as active insurgent commanders directing fighting against the coalition, and that insurgents "could not be defeated without disrupting the narcotics trade."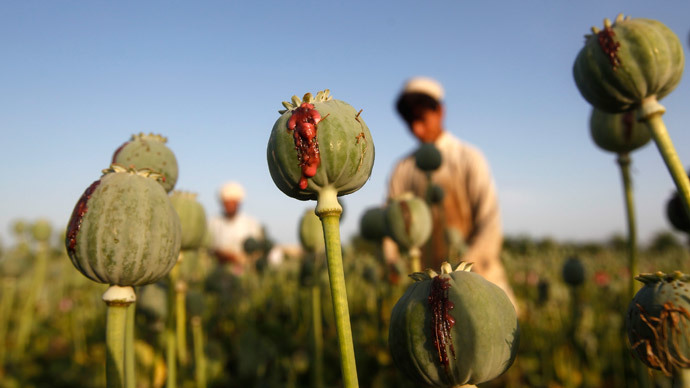 In October 2008, NATO defense ministers agreed that "narcotics trafficking networks were legitimate targets for ISAF forces, due to the traffickers' ties to insurgency," and traffickers would be added to the JEPL list and targeted in strikes. Spiegel reported that there was a discussion about this within NATO, with German NATO General Egon Ramms declaring the order "illegal" and a violation of international law. The power struggle within NATO finally led to a modification of the directive: targets related to drug production at least had to be investigated as individual cases.
READ MORE:Endless war? US increases number of troops in Afghanistan yet again
A legal challenge was brought by an Afghan, Habib Rahman, in 2012. He believed his relatives were unlawfully killed during a "kill list" operation, when a US missile attack on their cars led to the deaths of 10 family members and several others being injured. ISAF insisted there was a target in the convoy, Muhammad Amin, whom the US accused of being a Taliban commander and member of the Islamic Movement of Uzbekistan. An investigation of the incident found that ISAF had killed Zabet Amanullah, and that Amin was not in the convoy and was still alive.
"Even now, there does not seem to be any acknowledgment within the military that they may have got the wrong man," Kate Clark of the Afghanistan Analysts Network told the Guardian. "It is really very bizarre. They think Amin and Amanullah are one and the same."
New Snowden docs finally give human rights orgs proof to pursue NATO/ISAF countries over targeted kill-list procedure http://t.co/3TOWSNxhWJ

— CIA Officer 3 (@FraknToastr) December 28, 2014
Rahman's lawyers point to the Geneva Conventions, which say that persons taking no active part in hostilities are protected from "violence to life and person, in particular murder of all kinds." They also draw on the International Committee of the Red Cross, which has said that anyone accompanying an organized group who is not directly involved in hostilities "remains civilian assuming support functions."
You can share this story on social media: