Proton delivered Airbus sat. into orbit in Russia's final 2014 launch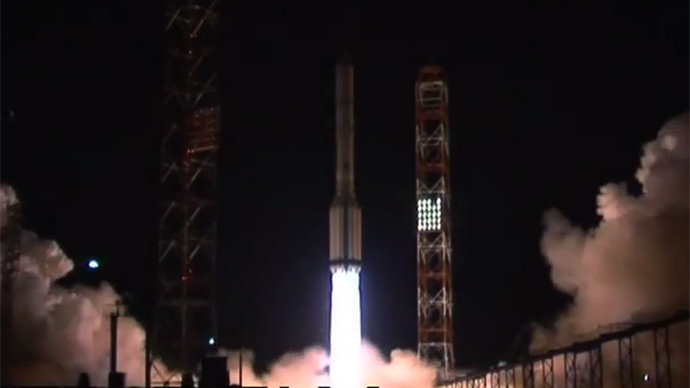 The Russian space agency has reported successful delivery of a European communication satellite to geosynchronous orbit. The 401st launch of the Proton-M booster blasted off from Baikonur Cosmodrome in Kazakhstan.
Roskosmos federal space agency has conducted this year's last successful space launch.
The Proton-M booster rocket with European Astra-2G communication satellite, launched early on Sunday, delivered the payload to interim orbit. For the next nine hours, the Briz-M upper stage brought Astra-2G to its destined geostationary orbit at 36,000 kilometers. The satellite disconnected from the upper stage and entered the calculated orbit at 07:49 GMT.
Russia's Proton rocket successfully launches the #Astra2G TV broadcasting satellite. http://t.co/kUXdCCEjPHpic.twitter.com/HbmrzMIQyW

— Spaceflight Now (@SpaceflightNow) December 28, 2014
Initially, the Astra-2G launch had been scheduled for November 28, but the launch was postponed because the Breeze-M upper stage didn't correctly respond to commands sent to it while the rocket was on the launch pad. Further checks proved that a gyroscope in the upper stage was operating incorrectly, so it was replaced
The halt changed the schedule and another Proton booster with Yamal-401 communication satellite for the Gazprom energy corporation became a jubilee 400th one.
The Astra-2G communication satellite was manufactured by the Airbus Defense and Space Company for SES, a communication operator from Luxembourg. The vehicle weights six tons and its solar panels extend 40 meters wide, providing 13 KWt of power during its 15-year lifespan.
The Astra-2G is a dual-capable satellite for both civilian and military use. It's expected to transmit signals to European countries, West Africa and the Near and Middle East. The satellite also contains a military Ka- and X-band payload to provide bandwidth to the NATO alliance.
The Astra-2G is the 24th SES satellite delivered into orbit with the Russian Proton-M rocket booster. Airbus is currently manufacturing three more Eurostar E3000 satellites.
Notching up 32 and registering just one failure, Russia's Roskosmos federal space agency conducted more launches than any other agency in 2014.
READ MORE: Proton-M rocket carrying Russia's most advanced satellite crashes
Four manned launches took off from Baikonur this year, delivering crews to the International Space Station aboard Soyuz-FG rocket boosters.
There were some memorable moments among the 2014 space launches.
On June 19, a Dnepr rocket (SS-18 Satan by NATO designation) delivered a record 33 satellites into orbit.
READ MORE: Russian-Ukrainian 'Satan' rocket blasts into orbit with 33-satellite load
On July 9, Russia launched the ecologically clean Angara rocket, the first space booster designed in Russia from scratch since the collapse of the Soviet Union. The launch was made from the Plesetsk military cosmodrome in Russia's north, using a unique launch pad designed to send various types of Angara family boosters into space.
READ MORE: Russia test launches first newly designed 'Angara' space rocket
Less than a week ago, on December 23, Russia's space agency launched a heavy version of the newly developed, ecologically clean Angara rocket family.
READ MORE: Russia test-launches new space eco-rocket Angara right into geostationary orbit
A test launch of Angara A5 heavy-class carrier rocket successfully carried out at Plesetsk Space Launch Centre pic.twitter.com/i2W6bh3A6N

— Government of Russia (@GovernmentRF) December 23, 2014
Apart from space launches made from three cosmodromes in Russia and Baikonur in Kazakhstan, four Russian Soyuz rockets were launched from Kuru Cosmodrome in French Guiana, which brings the number of launches to 36.
In 2014, the Russian military performed 13 successful suborbital launches of intercontinental ballistic missiles.