​Russian-Ukrainian 'Satan' rocket blasts into orbit with 33-satellite load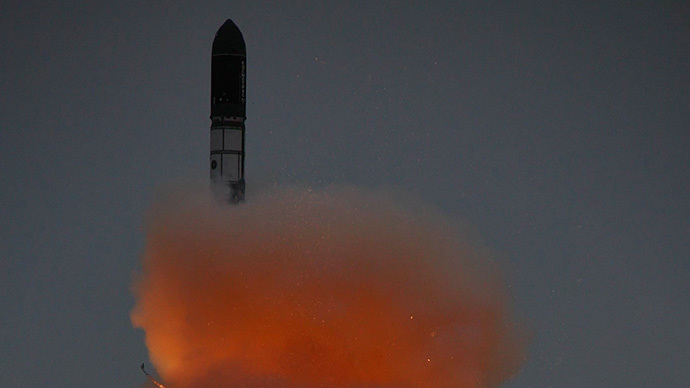 Dnepr rocket also dubbed 'Satan' has blast off into earth's orbit carrying over 30 satellites from 17 countries, including the US. The rocket itself is of Russia-Ukraine make.
ISS crew hug, take selfie to say 'No' to politics and Ukraine tension in space
Russia's Dombarovsky military air base saw the launch at 19:11 GMT Thursday, the 20th such rocket whizzing off into space.
Twenty-six minutes later, "all of the 33 satellites have separated from the rocket at the pre-set time and were put into their respective orbits," Kosmotras, the launch operator, said.
One of them was TabletSat-Aurora, which came as the first Russian private mini-satellite. Weighing just some 25 kilogram, the spacecraft is to observe the Earth, returning images with a resolution of up to 15 meters.
The satellite payload also included Perseus-M 1 and 2 (US), Deimos-2 (Spain), Hodoyoshi-3 and 4 (Japan), BRITE-CA 1 and 2 (Canada), BugSat-1 (Argentina), SaudiSat-4 (Saudi Arabia) and Duchifat-1 (Israel). The latter is an Israeli experimental and educational spacecraft developed and built by Israeli students of secondary schools.
The Satan made its first launch in April 1999, when it deployed Britain's UoSAT-12. At two points it held the record for the most satellites orbited in a single launch – the first in April 2007 with 14 payloads and the second during its last mission in November 2013. In July 2006 the Dnepr failed to launch due to a malfunctioning of the pumping hydraulic drive of combustion chamber.
The Dnepr rocket is a converted intercontinental ballistic missile based on the R-36MUTTH ICBM – called the SS-18 Satan by NATO. It was developed by the space agencies of Russia and Ukraine in cooperation with the Russian Ministry of Defense.