Afghanistan against US plans to transfer military gear to Ukraine - Kabul official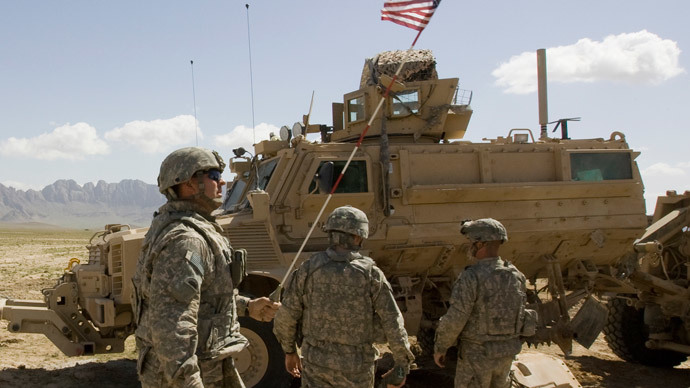 Kabul is against Washington's alleged decision to transfer weapons and machinery left from its military mission in Afghanistan to Ukraine, an Afghan presidential administration official told TASS. The issue will be discussed with Obama, he added.
American specialists in Afghanistan are currently preparing US army MRAP (Mine-Resistant Ambush Protected) vehicles to be transferred to Ukraine, according to the information obtained by the Afghan presidential administration. The US combat mission command refuses to discuss the issue with Kabul, saying the White House is in charge, a representative of Ashraf Ghani's administration told the agency.
Ghani will raise the question during his visit to Washington in January. He plans to urge Obama not to move the equipment to Ukraine, the agency's source said. "The issue is directly connected with sustaining the country's strategic partnership with the US," the official added.
READ MORE: 5 not-so-peaceful Obama actions since nabbing Nobel Prize
Washington has previously ensured Kabul that the US military equipment and weapons, used by its combat mission in Afghanistan, will stay in the country to be employed by the Afghan army and law enforcement, according to the official. He added the country planned to use it in strengthening its fighting capabilities against Taliban forces in the country's south.
America's longest-ever overseas war, which began soon after 9/11, is set to officially wind down at the end of this month. More than 2,000 US soldiers were killed during the 13-year mission. Although the war - which has cost the US around $1 trillion so far, according to the Financial Times and independent reports, will officially terminate, some 10,000 US troops will remain in Afghanistan through 2016, as part of a "Resolute Support Mission" assist program.
READ MORE: Afghan civilian casualties, injuries to reach 10,000 in 2014 – UN
US officials and NATO have supported Ukraine over the conflict with anti-government forces in the country's east. In November, US Air Force General Philip Breedlove, commander of US European Command and NATO Allied Command Operations, said there is a plan to address the requirements of Ukraine's military, with parts of it being executed. Speaking about the possibility of sending lethal equipment to Ukraine, the general said nothing was off the table.
You can share this story on social media: