Need an armored military-grade taxi? Flag one down in St. Petersburg (VIDEO)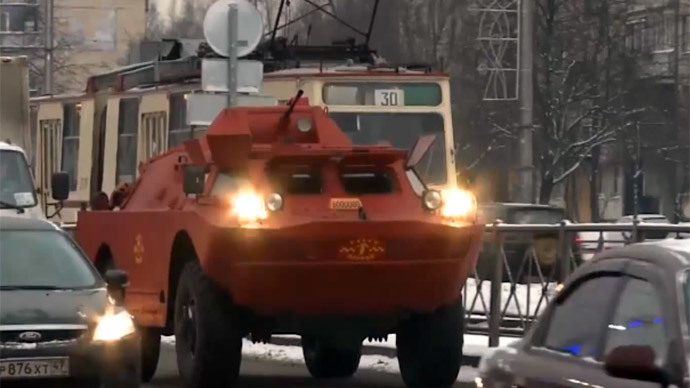 An armored reconnaissance vehicle is being used as a taxi on the streets of St. Petersburg just like any cab. Painted in strident red, the vehicle draws attention with its military design and its deactivated turret machine gun.
The BRDM APC (Combat Command and Reconnaissance Vehicle) has been launched as a public taxi after a long licensing campaign. The city authorities at first refused to grant a permit.
Finally, permission was given, yet with certain conditions, including changing the vehicle's camouflage pattern into something more civilian. So the BRDM's owner chose the red color used for fire-fighting vehicles to differ from standard yellow taxi color.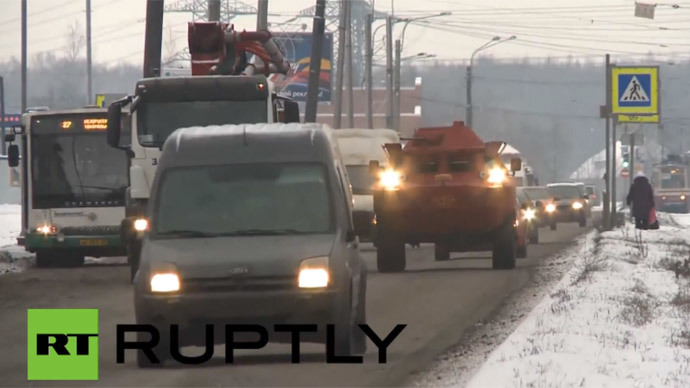 Also, because of its weight, the BRDM taxi is prohibited from entering certain streets in the historical center of St. Petersburg.
The current price tag for a ride is a rather hefty 5,000 rubles (a little less than $100), but the price is still good for tourists, just married couples, or anyone who wants to sit in the seat of a reconnaissance Soviet officer.
The BRDM taxi in St. Petersburg has no upgraded interior, maintaining the Spartan design of a Soviet operational vehicle.
The BRDM's other handy feature is its amphibious capability. During St. Petersburg's legendary "white nights" in summertime, bridges are raised every night for several hours to let big ships pass from Onega Lake into the Baltic Sea and vice versa. This nighttime operation isolates certain regions of St. Petersburg, which lies on several islands in the delta of the Neva River.
The BRDM taxi can deliver its passengers to an address right across the Neva, adding even more unforgettable memories to the APC riding experience.
The BRDM-2 Combat Command and Reconnaissance Vehicle was manufactured in the Soviet Union from 1963 to1989. Armed with a 14.5-mm Vladimirov heavy machine gun and a 7.62-mm Kalashnikov's tank machine gun, the BRDM has insufficient armor for direct combat. It is known for its ability to drive on any terrain.