Kiev & eastern Ukrainian militias carry out 'all for all' POW exchange
The largest prisoner exchange since the start of the Ukraine conflict has been carried out in the Donbass region. It was agreed by Kiev and eastern Ukrainian militias during a Minsk meeting on Wednesday.
The conflicting sides reached a deal to swap 150 captive Ukrainian soldiers for 225 militia troops from the self-proclaimed Donetsk and Lugansk People's Republics.
READ MORE: 'Difficult' new Ukraine peace talks begin in Minsk as Kiev sets course for NATO
The exchange has taken place 30 to 35 kilometers away from Donetsk, halfway between the city and the village of Konstantinovka.
Kiev handed over 222 people to the militias, while self-defense forces brought 145 Ukrainian troops to the exchange point.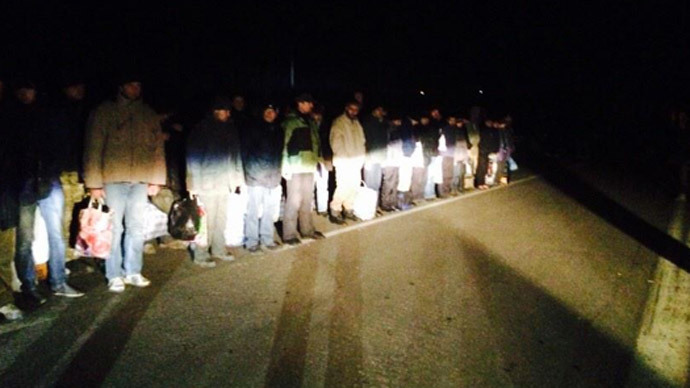 They were handed over on Friday, except for one Kiev soldier who refused to be exchanged.
Five more Ukrainian troops will be brought to the exchange from Lugansk on Saturday, RIA Novosti cited Donetsk People's Republic Defense Minister Vladimir Kononov, as saying.
Prisoner swap Correction. #Ukraine got 145 soldiers & #DNR got 222 people, mostly non combatant civilians pic.twitter.com/MqCpmelRyM

— Roman Kosarev (@Kosarev_RT) December 26, 2014
RT's Roman Kosarev, who was present at the exchange on Friday, said that only 55 people brought by Kiev were actual militia members; the rest were civilians.
The prisoners are being swapped by a group of 10 people, according to Darya Morozova, who heads the exchange committee for the Donetsk People's Republic.
She also confirmed that only 55 militia troops are being swapped, saying that "we have no idea who the rest of the people are."
Prisoner swap between #Ukraine and #Donetsk people's republic begins. pic.twitter.com/aOf1OoqiZT

— Roman Kosarev (@Kosarev_RT) December 26, 2014
According to Morozova, the exchange will take two days, with Donetsk captives being transferred on Friday and Lugansk prisoners on Saturday, Tass news agency reported.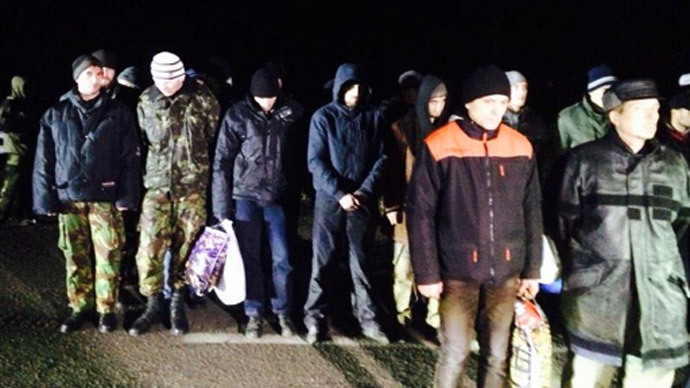 Several prisoner exchanges between Kiev and the self-proclaimed republics have taken place since the sides reached a ceasefire agreement on September 5.
A previous swap took place in Donbas in November.
READ MORE: Prisoner swaps on shaky ground in Ukraine as Kiev accused of foul play
Donetsk prisoners 'tortured, underfed' in Ukrainian custody
Some Donetsk residents released during the exchange said they were tortured and underfed by the Security Service of Ukraine (SBU), which they want to be recognized as a terrorist organization.
The SBU tried to hamper the communications between the prisoners and observers from the Organization for Security and Co-operation in Europe (OSCE), Vadim Stepanenko, who was among those freed on Friday, told Tass news agency.
"Before human rights activists came to us, they (SBU) demanded that we didn't complain about the confinement conditions, threatening us with violence. Those who still tried to tell the truth found themselves in disciplinary cells," he said. "There were cases when seriously ill POWs weren't allowed to be attended by doctors and were denied permission to visit the hospital."
Another exchanged Donetsk prisoner said that "we experienced hunger and went through terrible torture. But we're peaceful people, Ukrainian citizens, who didn't commit any crimes on the territory of our country."
His counterpart revealed that he was accused of the attempted abduction of Ukrainian President Petro Poroshenko during his visit to Mariupol.
"The SBU beat me terribly, demanding that I admitted my guilt," he said.
The military conflict in Ukraine began in April, after the Donetsk and Lugansk regions refused to recognize the new coup-imposed authorities in Kiev.
The violence in southeastern Ukraine has led to the deaths of at least 4,707 people. An additional 10,322 have been wounded, according to UN estimates.