Prisoner swaps on shaky ground in Ukraine as Kiev accused of foul play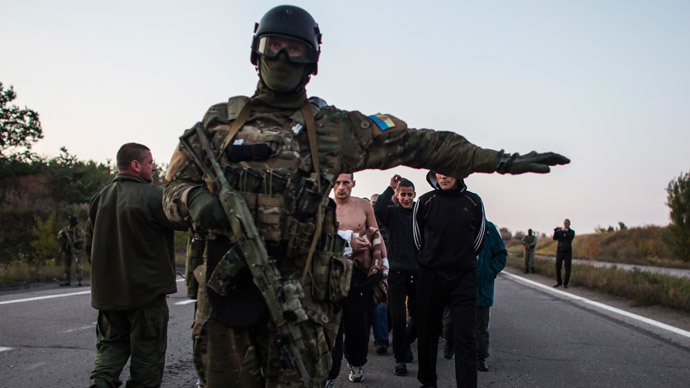 Prisoner swaps in Ukraine are in danger of stalling as rebels say they will no longer tolerate Kiev's practice of producing random people for exchange instead of actual members of militia and political prisoners.
Prisoner exchanges are a crucial part for consolidating the shaky truce in eastern Ukraine. The peace deal signed in Minsk, Belarus, on September 5 states that all captives must be eventually set free. So far the OSCE-monitored swaps had been done on a one-for-one basis, and Kiev is apparently lacking genuine rebel captives to offer and is substituting them with whoever it can procure.
But the rebels say they won't have it anymore.
"We don't reject further trade, but the rules of the game have changed now. The Ukrainian side will have to deliver lists and IDs of our supporters they offer in advance," prime minister of the self-proclaimed Donetsk People's Republic, Aleksandr Zakharchenko, told Interfax. "We will be checking the people brought for exchange against those lists. If they try to send us wrong people, we would reject them and would hold a corresponding number of their military."
On Friday last week the rebels said they would suspend all exchanges unless Kiev stops sending them people who have nothing to do with the militias. Despite the threat, a new trade did happen on Sunday, as Kiev offered 60 prisoners in exchange for 30 army soldiers captured by the rebels. The willingness to double the number of released captives may indicate that Kiev is trying to make concessions.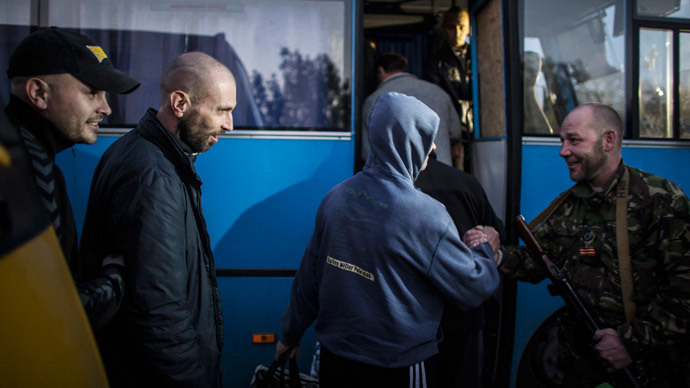 But the Sunday trade may have been the reason for the latest demand, as some of those released by the Ukrainian government insisted that they had never been combatants, RIA Novosti reported.
One of the prisoners, who introduced himself as Aleksandr from the city of Kharkov, said he was just snatched from the street near his home.
"I came out for a smoke. Gunmen in a police car drove by, dragged me in took to a police station," he told the Russian news agency. "They beat me and made me confess of murdering several people. Told me that I was a terrorist. I could barely comprehend what was happening."
He added he wouldn't go home because he fears he would be arrested again.
Another ex-prisoner said he was a music teacher and that he was arrested for telling a family member on the phone that he could see Ukrainian military vehicles from his window. Apparently he was suspected of giving intelligence to the rebels, but he denies any ties with the militias.
Yet another said he was arrested in Nikolayev, a city far from the conflict zone, for taking part in a peaceful anti-government protest.
"Ukraine is passing off the wrong people all the time. Of the 60 people they offered for the latest trade, 45 were just random folk," Andrey Purgin, a senior DPR official told the news agency.
The allegations of foul play were corroborated last week by the New York Times, which covered a prisoner swap on September 21. The newspaper cited the prisoners released by Kiev as saying that only seven of the 28 were rebel fighters. Those released by the rebels all looked like military.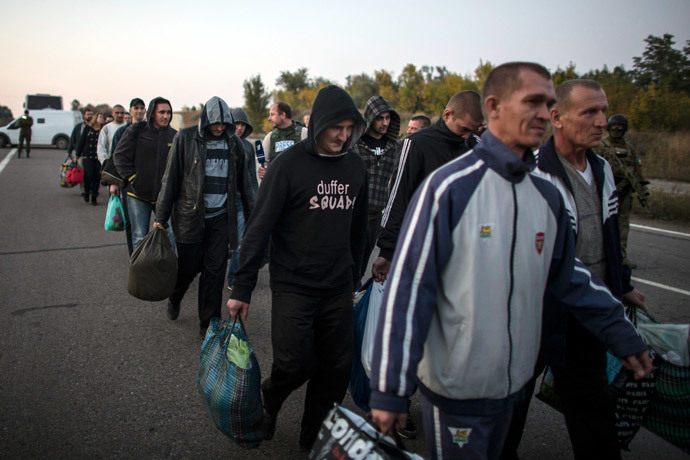 The problem is aggravated by a concern among the rebels that their fighters may have been killed in captivity. In preparation for the latest exchange the rebels made a list of 100 captive militiamen, but Kiev could find only 29 of them, said Darya Morozova, who heads the exchange committee for the DPR.
There has long been reluctance among Ukrainian officials over prisoner exchanges. For months the bulk of the work to release captives was shouldered by civilian activists rather than officials, and ensuring that the agreed terms of prisoners swaps were upheld by Kiev was always a major issue, according to Vladimir Ruban, a retired Ukrainian general who found himself in the position of a key negotiator once the conflict in the east escalated.
"Everything can be settled, a compromise can be found in any situation. But relying on the Ukrainian side to hold to the terms – that's an issue," he said in an interview to Vesti newspaper in early September. "The Donetsk side understands that the Ukrainian side may not deliver, and still they agree to big concessions because they realize the peculiarity of the state and its officials. We still make deals. This is both great and awful."
You can share this story on social media: