Kiev, Ukraine militias exchange prisoners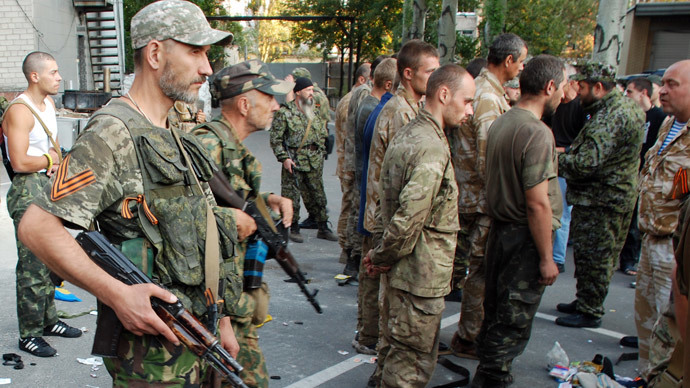 The prisoners' exchange is underway between self-defense forces of the Donetsk People's Republic and the Ukrainian Army. A move was stipulated as one of the key issues of the Minsk ceasefire agreement reached between the two sides last week.
"The exchange has taken place," a representative of the DPR's defense ministry told Interfax earlier. "We handed 36 prisoners over to the Kiev side in exchange for 31 of our supporters. Kiev promises to hand over five more tomorrow."
In the meantime, reporters for the Komsomolskaya Pravda newspaper working in Ukraine have confirmed an exchange of 37 self-defence fighters for 37 Ukrainian troops, saying that the previous report was a bit premature and the actual swap did not happen until later Thursday night.
"Some relatives asked for their [prisoners'] release. We receive many calls, from wives, children and parents. They are helping us. We are looking for them. We want to do what was agreed in Minsk [meeting in Belarus]: to exchange 'all-for-all'," said Yury Tandit, the volunteer responsible for prisoners' exchange.
Some of the former prisoners were using crutches; some were transported on stretchers due to the wounds they sustained during fighting. Others rushed to phones to call their relatives to say they are safe and sound.
"Hey, dear," says one of the former prisoners on the phone, "This is Sanya, I'm in Donetsk. They exchanged us. Are the children safe?"
Anton, who was wounded by shrapnel in the thigh and transported on a stretcher, said he was not beaten in prison.
"When I was captured, well they beat me a little. But then at hospital it was OK," he said.
Alla from Kramatorsk, Donetsk Region, who spent three months in prison, thanks God for saving her life.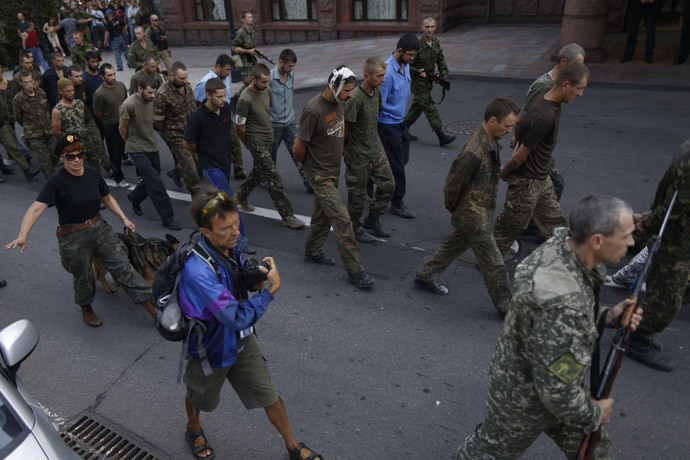 "They put a bag on my head and tried to suffocate me," she said, "I'm a diabetic. They didn't allow me to go to the toilet and didn't take off the cuffs. I was praying. God is with me."
Colonel-General Vladimir Ruban, responsible for prisoners' exchange, said that prisoners exchange is always a "complicated process."
"Today it is easier to make prisoners' exchange because the soldiers from both sides understood that they could exchange their men," Ruban said. "But at the same time it's more complicated as now they learn how 'to trade' their positions."
He added that there are at least 1,200 prisoners from self-defense forces now held captive by Kiev troops (600 from Donetsk and 600 from Lugansk). He hasn't yet revealed the number of Ukrainian troops held captive by eastern Ukrainian militia.
"The sides don't trust each other," he said adding that at the same time they all "ready for collaboration."
Earlier on Thursday, the deputy PM of the DPR, Andrey Purgin, told RIA that it was the Kiev side that has been stalling the planned exchange, while Col. Andrey Lysenko, the spokesman for Ukraine's National Security Council, blamed the rebels' "lack of consistency" for disrupting the swap.
"For the fourth day we are trying to exchange [the captives]," Purgin said, adding that he hopes the swap will finally take place on Thursday night.A special exchange group has been created which compiled a combined list of people subject to exchange, he said, adding that the list could be amended if the need arises.
Under the terms of the ceasefire signed in Minsk on September 5, both sides of the conflict have agreed to swap prisoners on an 'all-for-all' basis as a sign of good will as adversaries look for ways to create permanent peace in the region.
Ukraine peace plan: Withdraw military hardware, exchange POWs, open corridors
Other key issues that the Minsk contact group on Ukraine agreed on include a ceasefire and withdrawal of military hardware, and opening corridors for humanitarian aid access to the conflict-torn regions.
Ukrainian President Petro Poroshenko said on Wednesday that immediately after the Minsk agreement was signed, Kiev received 700 of its servicemen back and was expecting another 500 to be transferred by the end of the week. At the same time, Kiev claims to hold some 300 members of the anti-government forces. However, at least 1,000 more remain missing, according to self-proclaimed republics, some of whom could also be held captive.
Kiev is using the ceasefire to regroup its forces, which it claims will not mount to a new offensive, but rather serve as a defense line in eastern part of the country, a spokesperson for Ukraine's National Security and Defense Council said Thursday. Ukraine is creating a solid, reinforced and continuous line of defense to "eliminate the chances of encirclement of Ukrainian troops" in the future, said Andrey Lysenko, according to Ria. President Poroshenko also confirmed on Wednesday he was "regrouping" his forces in the east, justifying it as a move to defend the country's territory.
READ MORE:Ukraine ceasefire holds for shaky peace to last
The ceasefire, in the meantime is fragile, Russian Foreign Minister Spokesman Alexander Lukashevich said on Thursday, stating that there is mounting evidence that Kiev is reinforcing military groups in different areas in the country's east. With sporadic clashes still happening following the truce agreement, both the Ukrainian military and anti-Kiev forces have been accusing each other of violating the peace.
You can share this story on social media: