Ukraine ascension to NATO would end Russia-NATO ties – Moscow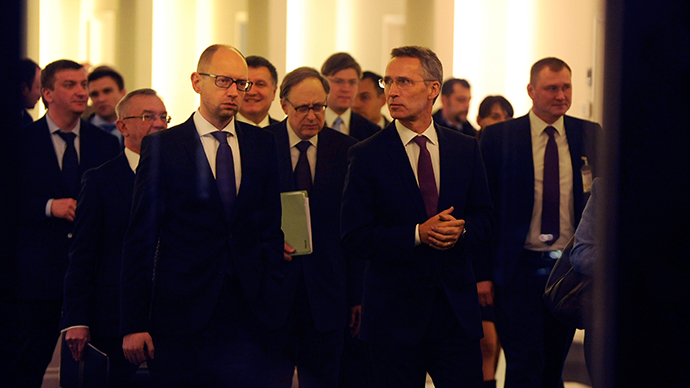 If Ukraine were accepted as a NATO member, it would end any relations between the alliance and Moscow, the Russian Defense Ministry warned. Kiev revoked a long-time non-alliance stance and is seeking NATO membership under the post-coup government.
READ MORE: Ukraine seeking NATO membership 'a false solution', says Russia
The threat was voiced by Deputy Defense Minister Anatoly Antonov on Wednesday a day after the Ukrainian Verkhovna Rada adopted a law, which allows Ukraine to become part of a military bloc.

"So far the Ukrainian parliament's decision to abandon its non-alignment status does not threaten Russia's security. It's a political decision. But if in the future this decision leads to military aspects, namely joining NATO, we will react accordingly. Then we will have absolutely all ties with NATO severed, and such a rift would be virtually impossible to mend," he said.

Antonov reiterated Moscow's concern with increased NATO presence close to Russian borders. The alliance claims that the military boost in Eastern Europe is needed to counter what it perceives as Russian aggressive stance amid the Ukrainian crisis.
Russia sees NATO's actions as provocative and anti-Russian.
"Our special concern is the continued training of crews from non-nuclear NATO members in piloting of nuclear-capable aircraft and the inclusion of new countries like Poland into this process," Antonov said.
Ukraine is seeking NATO membership to receive help in its fight against rebel forces in the east. Kiev says the rebels are a form of Russian aggression and that Ukraine needs NATO's protection from Moscow.
NATO insists that joining it is a sovereign decision by any applying nation and that it will not take Russia's concerns into consideration when making a decision on any such application.
But Ukraine is unlikely to join the alliance anytime soon, NATO Secretary General Jens Stoltenberg said following the new law's adoption. Kiev would have to settle its territorial disputes and conduct a thorough overhaul of its military and entire governance system before having a feasible chance of joining NATO, he said.
Kiev itself estimates that it would take six years for the required reforms to take place. Until then it seeks the status of 'key NATO ally'.
The alliance this year doubled flights of both tactical and reconnaissance aviation close to Russia's border, Antonov said. The Russian military recorded 3,000 tactical sorties and 480 reconnaissance flights over the Baltic and Barents Seas in 2014. NATO has also deployed more tanks in Eastern Europe.
You can share this story on social media: