​Fear-mongering 'AIDS demolition team' in China bullied residents out of homes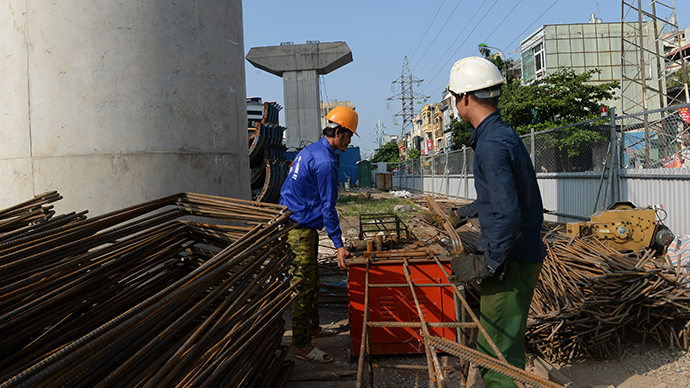 Authorities in a large Chinese city are investigating a work gang of a property development company, which bullied local residents into vacating their homes, threatening to infect them with AIDS unless they comply.
The case surfaces in the prefecture-level city of Nanyang in central Henan Province. The city government looked into reports of this 'AIDS demolition team' in social media and said such a gang indeed existed.
The reports distributed through Weibo microblogging service showed pictures of threatening red graffiti on a building wall saying "AIDS demolition team."
The crew claimed to have AIDS patients in their ranks and threatened people living in areas slated for demolition and development with the disease to force them out.
Local residents said they had been harassed this way since early December, with some leaving out of fear, news agency Xinhua reported.
China Daily cites local residents as saying that the bullying tactic in other forms had been employed in the neighborhood since as early as 2012, with houses being illegally cut from utilities.
The 'AIDS demolition team' allegedly had six members, who had papers confirming their AIDS diagnosis. But authorities said they have not yet established whether the papers were fakes or the bullies were actually carrying the deadly HIV virus.
READ MORE: Chinese villagers sign petition to isolate HIV-positive child
The company that employed the demolition team has been shut down for the time of the investigation, a Nanyang government official said.
The Henan province was one of the first in China to face a serious AIDS epidemic in the 1990s. The disease spread among local villagers, who engaged in selling their blood for medical purposes. The blood was often collected by shady clinics in unsanitary conditions with unsterilized needles that served as vectors for spreading the disease.
HIV/AIDS patients are often stigmatized in China, where a large degree of ignorance remains about the disease and the dangers carriers can pose to the public. Last week a Chinese village launched an education campaign after some 200 villagers signed a petition to expel an eight-year-old boy infected with the HIV. The boy's grandfather was among the signatories.