Spain investigates Catalonia leader over independence vote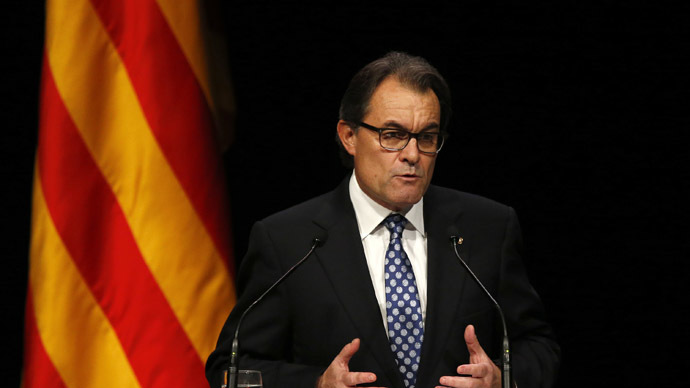 Catalonia's high court said Monday it is going to open an investigation into the alleged disobedience of regional president Artur Mas for holding a symbolic independence referendum in November in defiance of Madrid's opposition.
The non-binding vote took place on November 9 and saw 2 million out of a possible 5.4 million Catalans take part. Some 80 percent voted for independence.
READ MORE: First Catalonia visit since vote: Spanish PM brands independence poll 'resounding failure'
Mas hailed the vote "a great success" but the Spanish government strongly opposed it, with Justice Minister Rafael Catala dismissing it as "a sterile and useless sham" in what amounted to "a day of political propaganda."
The referendum was blocked by Spain's Constitutional Court, but Mas pressed ahead anyway and used volunteers instead of government officials to marshal the event.
READ MORE: 80% of Catalans say 'Yes' to independence in symbolic 'referendum'
The legal case against Mas could eventually mean that he will be barred from running in the next regional elections, due in late 2016.
Alongside the investigation, Spanish Prime Minister Mariano Rajoy has said he wants to open discussions with Catalonia to give the autonomous region some devolved powers on spending and taxation, which would mean reforming the constitution.
You can share this story on social media: