Ronaldo snubs UEFA chief at World Club Cup final presentation
Published time: 21 Dec, 2014 14:13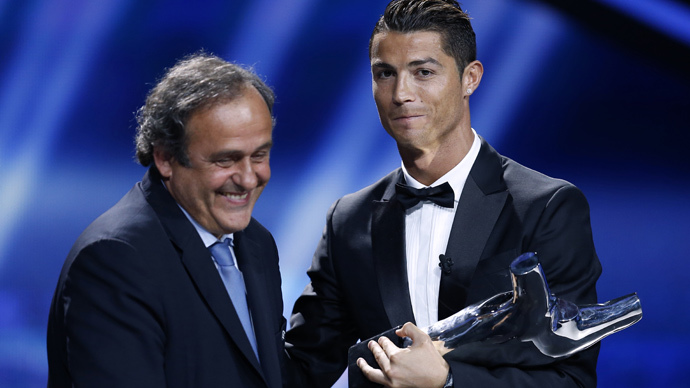 Cristiano Ronaldo gave Michel Platini the cold shoulder as he snubbed the UEFA President at the World Club Cup presentation. Real Madrid had slammed the Frenchman for comments in November when he said the World Player of the Year should go to a German.
Upon going up to receive his winners medal after Real Madrid were victorious in the World Club Cup final, the 29 year-old shook hands and hugged a number of the dignitaries, including FIFA President Sepp Blatter, but walked straight past Platini without blinking an eyelid.
A war of words with the head of European Football's governing body has been simmering for over a month. In November, Platini said that the Ballon d'Or trophy for the world's best footballer should go to a player who had won football's biggest competition, meaning it should go to a German player who won this summer's World Cup in Brazil.
Official announcement: http://t.co/DQDFDPy2HY#HalaMadridpic.twitter.com/n73Oex4s2O

— Real Madrid C.F. (@realmadriden) November 28, 2014
This led to a strong reaction from Real Madrid, who blasted the 59-year-old Frenchman and questioned his impartiality.
A statement released on the club's website said: "The Ballon d'Or is an individual rather than collective prize which is awarded annually to the best player in the world, and we believe that, in order to maintain its prestige, those who participate in the vote should take into account exclusively the individual professional achievements of the players."
Another important trophy for the team. The Club World Cup is ours. Hala Madrid! pic.twitter.com/JqsrtAM7IM

— Cristiano Ronaldo (@Cristiano) December 20, 2014
This year's UEFA Champions League winners Real Madrid added a fourth trophy to what has been an exceptional year under the stewardship of head coach Carlo Ancelotti as they brushed aside Argentina's San Lorenzo 2-0 in Marrakesh on Saturday.
Ronaldo did not manage to score in that game, though the Portuguese international has been influential for Los Blancos this season. He has managed to score an astonishing 25 goals in 14 games in Spain's domestic championship La Liga and would be a good bet to retain his World Player of the Year award, which will be announced in January in Zurich.