Choose your weapon! RT visits Kalashnikov as it gears up to make new army rifle (VIDEO)
One of the top managers at the legendary factory in Izhevsk told RT that their product lineup has increased more than twice since last year and they are getting ready to produce the brand new AK-12 for the Russian army.
The company revamped its brand on December 2, and is now called Kalashnikov Concern.
READ MORE: The new CK: Kalashnikov unveils new brands, fashion range
According to Kalashnikov's Weapons Production Director Dmitry Tarasov, a stronger euro and dollar have helped make concern's products more attractively priced to consumers.
"The global market is growing and our products have the call," Tarasov said. "This year we started to develop new products so next year there will be many civilian and military products issued."
After Washington introduced sanctions against the famous Russian arms producer, it sparked Kalashnikov buying spree in US.
READ MORE: Sanctions against Russia spark AK-47 buying frenzy in US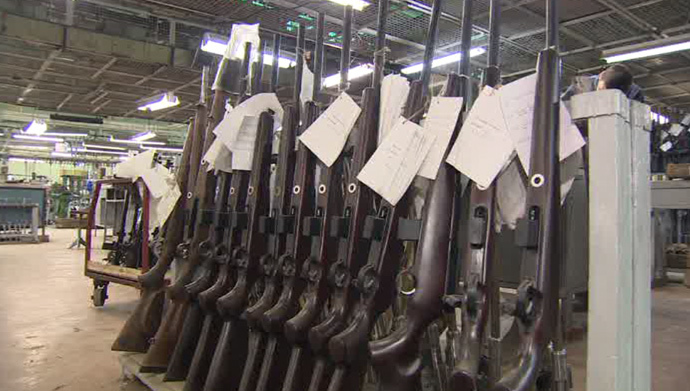 An exclusive five-year contract with the Russian Weapon Company (RWC) in the US implied delivery of up to 200,000 weapon units of Kalashnikov's Izhmash and Baikal brands, but none was shipped to the US due to the sanctions.
Viktor Lukinykh, the Head of Planning and Logistics Office of the Izhevsk plant told RT that Kalashnikov Concern is ready to return to the American market immediately after the sanctions are lifted.
Kalashnikov Family pic.twitter.com/yXRHDvZk2X

— Weapons HD (@WeaponGallery) December 12, 2014
"We produce the same number of civilian and military weapons. But civilian weapons we produce mostly for export. To the US, for example," Lukinyk said. This scheme used to curtail the range of products, the range was a little bit limited, because the Americans bought weapons in large quantities, yet only certain models.
"In connection with the introduction of these hapless sanctions, our market has expanded and we accommodated our consumers and expanded product range to suit all tastes. Now our product lineup has more than doubled compared to the previous year," Lukinykh said.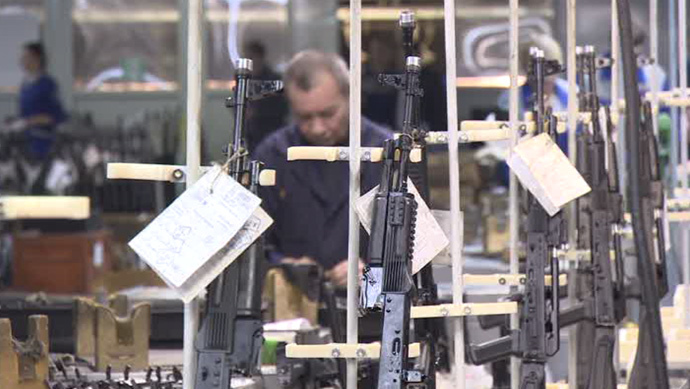 New Kalashnikov rifle for Russian military coming
Preparation for production of the AK-12 assault rifle for the Russian army is in full swing and once the Defense Ministry places an order, the assembly line will be ready to get to work, Lukinykh said.
Earlier this month Kalashnikov Concern Director General Aleksey Krivoruchko revealed to Echo of Moscow radio station that a price tag of the new AK-12 assault rifle is going to be around a competitive $1,000.
According to Dmitry Tarasov, the Izhevsk plant is being extensively reequipped.
"The modernization plan for the factory implies reaching up to 300,000 weapon units annual production in two years. We're going to change all business processes and introduce new technologies, buy a large number of new processing units," he said.
Despite US sanctions imposed against Russia's Kalashnikov Concern, the company has increased production by 40 percent this year. Tarasov estimated that weapons production in 2014 would be about 130,000 units.
READ MORE: Kalashnikov boosts output by 40% amid US sanctions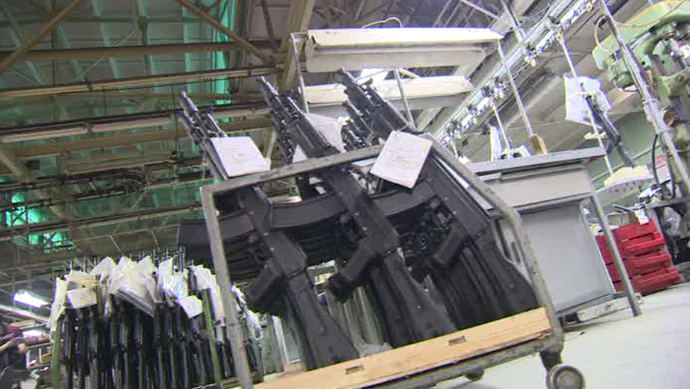 Kalashnikov Concern was formed in 2013 of Izhmash and Izhmekh arms plants, thus uniting Russia's largest weapons producers. Before the sanctions were introduced, Kalashnikov's products were supplied to 27 countries.
Kalashnikov Concern produces weapons under three brands: Kalashnikov for combat weapons, Baikal for hunting and civilian weapons and Izhmash for sportguns.
In addition to firearms, it plans to sell Kalashnikov-branded survival gear, including hunting knives and outfits.
You can share this story on social media: