Greenpeace director appears in Peru court after ill-conceived Nazca Lines stunt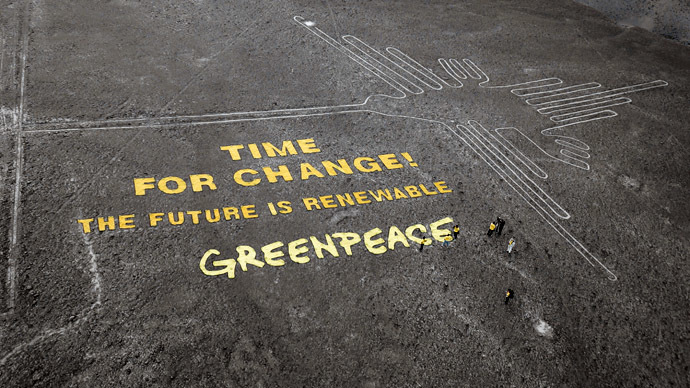 Greenpeace's executive director was met with protests calling for "Justice for Nazca" outside a Peruvian court following a reckless stunt during which activists trampled Peru's world-renowned Nazca Lines in an attempt to promote renewable energy.
"The first thing that the people of Nazca are demanding in the name of everyone who makes a living from tourism is the punishment to the individuals responsible for this," a demonstrator said Friday.
This week, prosecutor Patricia Begazo begun a preliminary investigation into Argentine activist Mauro Fernandez, coordinator of the environmental organization's Andean Climate and Energy Campaign.
Earlier this month, 20 Greenpeace activists illegally entered the fragile UNESCO World Heritage Site, which is home to ancient geoglyphs. Hiking through the desert to one of the most famous etchings—a large stylized hummingbird— the activists laid out yellow cloth letters spelling out, "Time for change! The future is renewable."
Authorities fear the activists may have caused irreparable damage to the site.
The country's deputy culture minister, Luis Jaime Castillo, decried the activists as "irresponsible and childish," calling their act a "true slap in the face at everything Peruvians consider sacred."
"You walk there, and the footprint is going to last hundreds or thousands of years. And the line that [Greenpeace has] destroyed is the most visible and most recognized of all," Castillo told the BBC.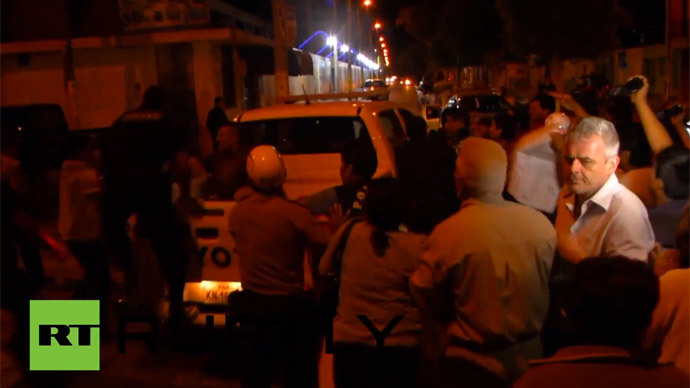 The etchings, scratched into the dark ground 1,500-2,000 years ago, reveal lighter colored earth underneath, forming illustrations of real and imagined animals and plants.
READ MORE: Greenpeace activists 'damage' ancient Nazca Lines, Peru to seek criminal charges
In a video released earlier this week, Greenpeace international executive director Kumi Naidoo strongly condemned the local Greenpeace activists' actions and issued an apology to the people of Peru.
"Greenpeace should never have done the activity at the Nazca Lines. We made a mistake. We must now commit our full attention to making amends. This is not who we are. This is not what we stand for," he said.
Talking to reporters on Friday, Naidoo took responsibility for the extreme misstep and vowed to make sure Greenpeace does not repeat such a mistake.
"I hope that we will make sure that we will strengthen our systems and our way of working that such a thing will be impossible for anybody associated with Greenpeace to ever conceptualize in the future," he said.
However, according to the New York Times, as of Monday, Greenpeace had yet to release the names of all of the activists who illegally entered the heritage site on December 8. The activists—believed to be from countries including Germany, Argentina, Colombia and Spain—have reportedly left Peru.
Authorities have said that they will seek charges of "attacking archaeological monuments." If convicted, Fernandez may face up to six years in prison.
You can share this story on social media: