Bomb attacks foiled at Crimea 'prosecutie' office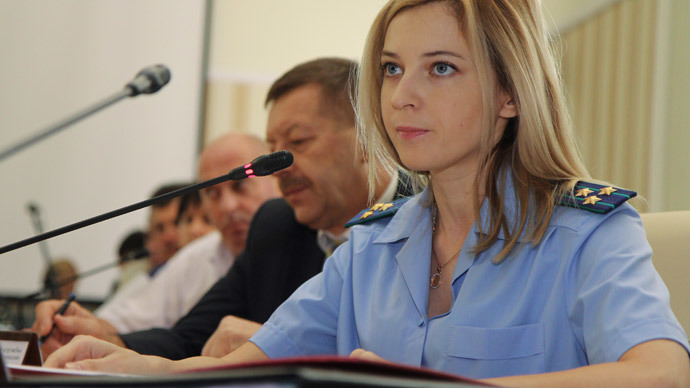 Two attempted terrorist attacks on the Crimean Prosecutor's Office have recently been prevented by members of the local People's Guard. So-called 'prosecutie' Natalia Poklonskaya has also had previous threats.
Two members of the guard prevented a couple of terrorist attacks that could have led to multiple casualties at Poklonskaya's office, Rossiyskaya Gazeta newspaper reported Friday.
"Several months ago, our guys found a bag with explosives at... the Crimean Prosecutor's Office and in November it was an envelope with a blasting agent, sent via mail and addressed to the prosecutor," Sergey Turchanenko, the commander of the People's Militia told Rossiyskaya Gazeta.
READ MORE: 'Prosecutie' Poklonskaya hits right note in Crimean palace (VIDEO)
"Thanks to thebrave attitude toward their duty of theself-defense forces'that serve at the Prosecutor's Office, we managed to secure it from negative consequences," Poklonskaya told Tass news agency.
She praised the guards, saying it was "a good job."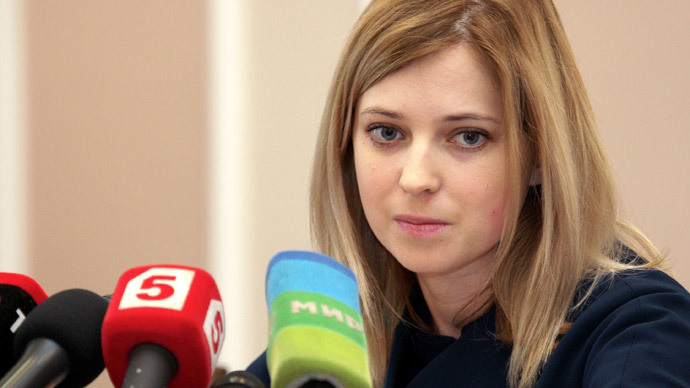 Poklonskaya refused to provide the media with further details, saying: "This information is undisclosed. A criminal case has been opened. I have no right to reveal details concerning this incident."
Rossiyskaya Gazeta newspaper obtained a copy of Poklonskaya's letter to Crimea's leader, Sergey Aksenov. It reveals that on August 18, a checkered shopping bag filled with explosives was found near the prosecutor's office at night. The casualty radius of the improvised explosive device was reportedly 350 meters.
READ MORE: Now a brunette! Crimean prosecutor Poklonskaya parades new haircut & color
Aksenov confirmed this information, saying: "Such attempts did occur, do and will probably do in future."
Turchanenko said that the People's Guard, alongside the police, frequently find packages that replicate explosive devices. Such an accident happened in December at the Council of Ministers building, he said.
"It turned out to be a cobblestone inside, but it could have been something different," he said.
The 33-year-old Crimean prosecutor has survived several assassination attempts during her 12 years of service.
She was severely beaten up when she jailed one of the leaders of 'The Shoes' gang, which was accused of plotting assassinations.
An internet sensation, Poklonskaya earned fame earlier this year after a video from a press conference went viral. Her Japanese and Russian fans even dubbed her 'Prosecutie' and 'Nyash-Myash'.
You can share this story on social media: