'Prosecutie' Poklonskaya hits right note in Crimean palace (VIDEO)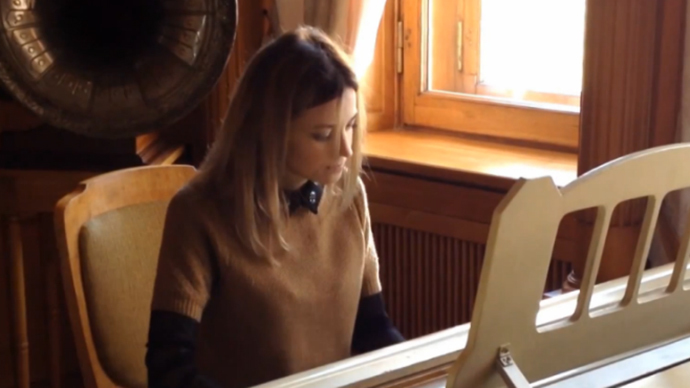 In a summer retreat of Tsar Nicholas II, Natalya Poklonskaya, who captivated the web with anime-style images, has been seen playing the piano. The Crimean prosecutor went to hand over photos of the last Russian emperor to the museum.
Poklonskaya handed over more than 80 photos of Nicholas II, some of them unique, to the museum at the Livadiya Palace. The photos were given to her by a priest from the Assumption Monastery of the Caves in Crimea.

"We have to draw certain conclusions from what we've lived through, and learn historical lessons," Poklonskaya told the Tass news agency.

"Nicholas II sacrificed himself, his family and what he had for Russia. We should remember and show this achievement so that young people love, value and protect their homeland," she said.
The photographs will be presented at the interactive exhibition 'The Romanovs: My Country's History', which has been touring the Crimea since August. The exhibition marks 400 years since the royal dynasty was founded. The Romanovs ruled Russia from the early 17th century to the revolution which saw Nicholas II abdicate in March 1917.

Poklonskaya also visited the music room of the tsar's family. She sat at the antique white piano, where Nicholas's wife, Alexandra, and his daughters loved to play their favorite pieces.
Прокурор Крыма Наталья Поклонская сыграла на рояле в Ливадийском дворце. pic.twitter.com/Lv4ON0xf1d

— Юлия Сапронова (@usapronova) October 23, 2014
Crimea's prosecutor then played a number of classical music compositions, including Masquerade, a waltz by Soviet-era Armenian composer Aram Khachaturian.

The video, recorded by Tass, shows the 34-year-old prosecutor again with blonde hair. In October Poklonskaya appeared in public with a new haircut and her hair dyed dark.
Прокурор Крыма Наталья Поклонская подарила Ливадийскому дворцу-музею более 80 фотог последнего российского императора pic.twitter.com/xChbe82ux3

— Юлия Сапронова (@usapronova) October 23, 2014
However, the video may have been recorded as long ago as August, when the Livadiya Palace was hosting the exhibition.

LINK Now a brunette! Crimean prosecutor Poklonskaya parades new haircut & color
Poklonskaya became an internet sensation after a video from her press conference went viral, getting hundreds of thousands of views in a few days. Russian blogger and musician Enjoykin created a video based on the prosecutor's press conference and interviews, resulting in 14 million views on YouTube.

The prosecutor also became a Japanese anime icon. Her fans call her "Prosecutie" and even invented a name for themselves: "Nataliaites."
You can share this story on social media: