Now a brunette! Crimean prosecutor Poklonskaya parades new haircut & color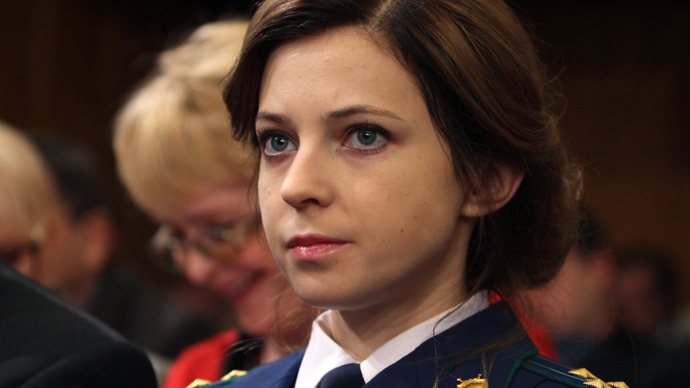 Crimea's prosecutor Natalia Poklonskaya, whose anime-style images became an internet sensation, has caused a great stir among her fans as she appeared at the State Council meeting with a new haircut and her hair dyed dark.
As usual, Poklonskaya attracted the audience's attention not only with her looks – the head of the Republic of Crimea, Sergey Aksenov, said: "A special thanks to the Crimean prosecutor Natalia Poklonskaya who took up the things that are beyond the scope of most men."
34-year-old Poklonskaya was appointed Crimea's chief prosecutor in May.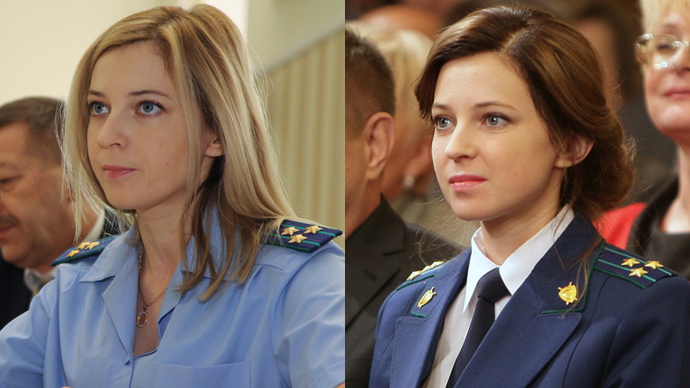 She became world famous after a video from her press conference went viral, getting hundreds of thousands of views in just several days.
Russian blogger and musician, Enjoykin, created a video based on the prosecutor's press conference and interviews, resulting in the astounding 14 million views on YouTube.
I just had to paint it. @NPoklonskayapic.twitter.com/FNDpYMprU3

— Kuvshinov Ilya (@KR0NPR1NZ) October 10, 2014
Poklonskaya also almost immediately turned into a Japanese anime icon. Her fans from all over the globe call her "Prosecutie" and even invented a name for themselves: "Nataliaites."
READ MORE: 'She annexes your heart': Reasons why Crimea prosecutor Poklonskaya not to be messed with
She, however, wants to be recognized for her work – not her looks.
"I want to be perceived as a prosecutor. And I'll achieve this through my work," she said.
Natalia Poklonskaya launched missiles through my heart.

— Керт Сантос (@Soulaotic) October 10, 2014
"In the 12 years I've spent working in the Prosecutor General's Office, I've been dealing with organized crime and put many criminals in prison. My looks have never been an obstacle – I hope they deceive my enemies," Poklonskaya said.
You can share this story on social media: