Crimean chief prosecutor Natalia Poklonskaya swears oath to Russia (VIDEO)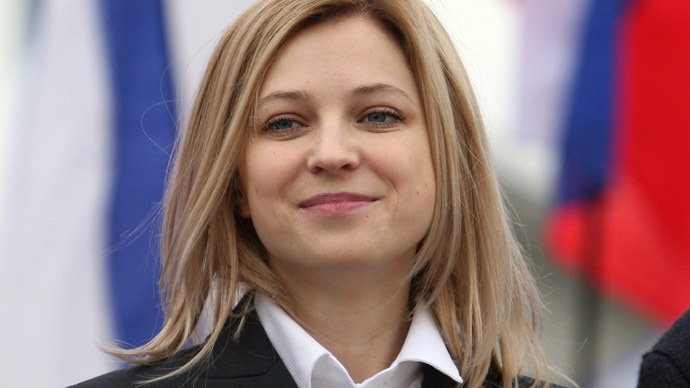 The chief prosecutor of Crimea and Internet sensation, Natalia Poklonskaya, alongside her colleagues, has sworn oath to protect the Russian constitution and state laws.
The oath was taken in front of WWII veterans who are marking the 70th anniversary of the liberation of the Crimean peninsula from Nazi Germany.
Following the ceremony Poklonskaya told journalists that her office will "cope and will not fail," to abide by Russian legislation, that she and her colleagues are getting acquainted with.
"Ukraine, Russia, Belarus – all came from a big country – the USSR," she said. "Therefore, the fundamental principle of law, the requirements that comply with all international regulations, they are the same."
When Poklonskaya addressed the veterans she said her department will never allow anyone – referring to Ukrainian ultra-nationalists movements and parties – to touch the "blessed memory" of Soviet soldiers and their heroic deeds.
The 34 year-old Prosecutor General of the Republic of Crimea gained popularity in Japanese anime cartoons after footage of Poklonskaya's emotional speech about the coup d'état and chaos in Kiev appeared on the internet in March. Having gone viral with millions of views of numerous videos on YouTube, she is now widely being referred to as a "sex symbol of Russia."
On 26 March, Poklonskaya was listed as a wanted criminal on the website of the Ukrainian Ministry of Internal Affairs and charged with violating the law based on a groundless claim that she was involved in a conspiracy to overthrow the constitutional order or seize state power.