India on path to delivering humans to space, tests heaviest launch vehicle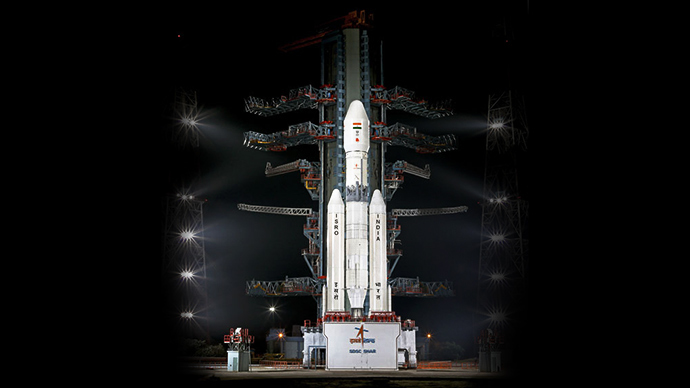 India is celebrating the successful the atmospheric re-entry of its most powerful satellite launch vehicle, which could see it sending humans to space soon. With this "destiny-changing" launch, it hopes to secure a bigger share of the global space market.
At around 9:35am local time, five minutes after liftoff and at an altitude of 126km (78 miles), the module GSLV Mk-III re-entered Earth's atmosphere, news agency PTI reported. Prime Minister Narendra Modi posted a congratulatory tweet for the occasion.
Successful launch of GSLV Mk-III is yet another triumph of brilliance & hardwork of our scientists. Congrats to them for the efforts. @isro

— Narendra Modi (@narendramodi) 18 декабря 2014
The module fell over the Bay of Bengal about 115 miles (185km) off the southern tip of the Andaman and Nicobar Islands, Indira Point.
"The powerful launch vehicle ... will change our destiny in placing various spacecraft into communication orbits," S. Somnath, project director on the GSLV, told journalists.
READ MORE: India gets last laugh against America's 'elite space club'
The module itself is nearly 3 meters tall and wide, shaped somewhat like a cupcake. Inside, the aluminum alloy coating is made up of composite panels, complete with thermal protection systems.
Another task requiring successful completion was the safe landing. For this the Indian Space Research Organization (ISRO) used its biggest ever parachute, specially made by an aerospace research company.
Finally, the test also helped ISRO test the vehicle's resistance to atmospheric pressure and how its design coped. The GSLV was powered by two engines, while the development of a third is currently in progress.
"We still need to put a heavier third engine to ensure this vehicle can be used successfully for manned missions and heavier satellite launches," Mayank Vahia of the Tata Institute of Fundamental Research told journalists.
First experimental flight of LVM3 with CARE module successful. pic.twitter.com/1wp1ka0EIo

— ISRO (@isro) 18 декабря 2014
With these experiments Prime Minister Narendra Modi wishes to propel the country into a new space age in which it can compete on a global level. The plan is to set up a 50-year program, and a massive effort has already been made: just this financial year, funding for the program went up by 50 percent to make almost 1$ billion.
However, there are still a number of problems affecting India's space agency – missions are slow to be completed and there is a lack of heavier launchers. Things like this resulted in the agency missing the opportunity to accomplish half of its missions in the 2007-2012 period, out of a total of 60, according to government data.
But Asia's third-largest economy is not shying away from the task of attracting increasing foreign investments, and ISRO believes Thursday's launch was a massive step on the way to achieving that.
READ MORE: India's low-cost space mission reaches Mars orbit
In September, the country's Mars Orbiter Mission entered the Red Planet's orbit, firmly securing first place for India among the Asian nations to do so. And it did so on a very tight budget of $74 million.
You can share this story on social media: