India gets last laugh against America's 'elite space club'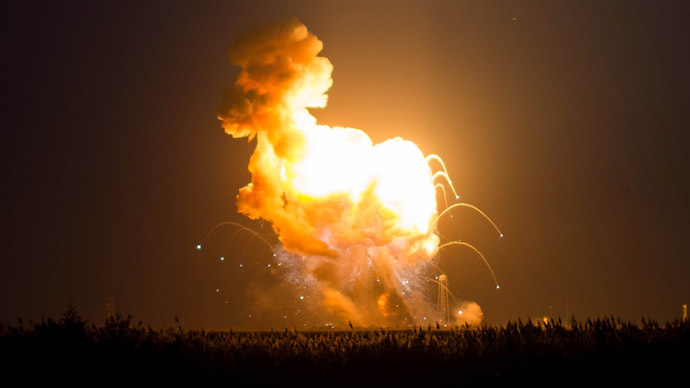 Following India's successful attempt to put a vehicle in Mars orbit, the New York Times published a cartoon acknowledging the event that some called racist. But India did not have to wait long to issue a comic rebuttal.
On September 24, India's fledgling space program got a historic first: The country's Mars Orbiter Mission (MOM) probe achieved the grand finale of its 10-month mission when it entered the Red Planet's gravitational field, thus making India just the fourth country to successfully send a space vehicle into Mars orbit.
The New York Times, however, could not resist taking a cheap shot with a stereotypical cartoon:
Some condescension from the NYT to brighten up your morning. Don't miss the cow, that most original of India motifs! pic.twitter.com/T6U4CxRrVd

— Samanth Subramanian (@Samanth_S) September 29, 2014
The cartoon has been described as "racist"
The India Times immediately fired back, paraphrasing Prime Minister Narendra Modi, who said he'd "like America to believe that we're no longer a land of snake charmers, but judging by a political cartoon published in the New York Times, it's going to be a while before Americans shake off that notion."
The paper continued in a defensive manner, reminding that India is the first country to have successfully made it to Mars in its maiden voyage, and to have done it "at a fraction of the cost incurred by other countries."
It wrapped up the vitriol by saying: "we're still teaching a thing or two to the 'elite space club', who judging by this photo appear to be a bunch of stodgy, xenophobic fogeys."
Now they are even teaching a thing or two to Western cartoonists as India did not have to wait long for a chance at some comic relief of its own.
On Tuesday, a NASA-contracted Antares rocket bound for the International Space Station exploded in a brilliant fireball after launch, dealing the US space program an embarrassing setback – but setting India up for the perfect retort against the 'elite space club.'
While NYT cartoon was racist, this is a brilliant retort by Hindustan Times. Take a bow. pic.twitter.com/BZe066ag3y

— blog link in bio (@indiantweeter) October 30, 2014
In the words of Twitter user @indiantwitter: "While NYT cartoon was racist, this is a brilliant retort by Hindustan Times. Take a bow."
It should be mentioned in fairness that the Indian Space Agency did receive some kudos from Western observers.
NASA Administrator Charles Bolden congratulated India in a statement the space agency released on September 24.
"It was an impressive engineering feat, and we welcome India to the family of nations studying another facet of the Red Planet. We look forward to MOM adding to the knowledge the international community is gathering with the other spacecraft at Mars," Bolden said.
Meanwhile, the response to the cartoon, produced by Singaporean cartoonist Heng Kim Song, created such uproar that the NYT's editorial page editor, Andrew Rosenthal, took to its Facebook page to issue an apology: "We apologize to readers who were offended by the choice of images in this cartoon. Mr. Heng was in no way trying to impugn India, its government or its citizens. We appreciate that readers have shared their feedback, which we welcome."
You can share this story on social media: