Rosetta's comet 67P now in color… kind of (PHOTO)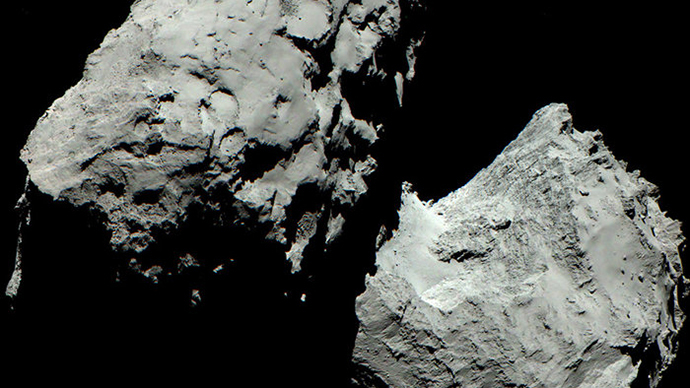 The European Space Agency has released the first color photo of the Churyumov-Gerasimenko comet, where the Rosetta's Philae module landed last month. And the surface, as predicted, proved to be various shades of gray.
No, what you see is not a prank - it is indeed a color photo.
"Natural sunlight peaks in the green part of the spectrum and the response of the human eye is similarly matched,"Rosetta's blog says. "Thus, overall, the comet would look rather gray to the human eye, as seen here."
READ MORE: First photo! Rosetta's historic Philae lander sends pic of new comet home
Rosetta took a photo using its OSIRIS (Optical, Spectroscopic and Infrared Remote Imaging System) system which can capture images in the visible, near infrared and near ultraviolet ranges. There are two cameras – a narrow angle camera to obtain high-resolution images of the comet and a wide angle camera to capture a broader landscape of the comet surface. Both cameras are equipped with 25 filters that selectively include or exclude certain wavelengths.
READ MORE: 'Game-changer info': Philae lander sends back key data before battery burnout
"To create an image revealing 67P's 'true' colors, the scientists superposed images taken sequentially through filters centered on red, green, and blue wavelengths," the Rosetta blog on the European Space Agency webpage says.
One more view of #67P from 20 km - #CometWatch 10 December: http://t.co/SSVPbX45pnpic.twitter.com/EO5qx4KeNx

— ESA Rosetta Mission (@ESA_Rosetta) 15 декабря 2014
As the comet was moving and the angles of observance were changing the photos shifted and the researchers had to "superimpose the images accurately," which took almost four months. The photos were made on August 6, 2014 from a distance of 120 kilometers.
#CometWatch 9 December – great features in the neck region! http://t.co/HP20cM32zRpic.twitter.com/1k1scJ5Z5q

— ESA Rosetta Mission (@ESA_Rosetta) 11 декабря 2014
An earlier photo hinted the comet might come out as reddish. However, the camera that made the shot did not have special filters, so it was not clear if those would be real colors seen by humans. Many smaller bodies in space appear to reflect red rays better than the rest of the specter, but it does not necessarily mean that in reality the object would be red.
READ MORE: 'Rotten eggs & horse pee': Rosetta probe sniffs comet 67P…and it stinks!
Previously, the researchers supposed the comet was gray but were not able to give any details. Now the image shows the surface is "an extremely homogeneously colored body even on a detailed scale, pointing at little or no compositional variation on the comet's surface."
Thus, the comet surface is covered with homogeneous dust. However, at present stage the researchers cannot say what it consists of but hope the OSIRIS system will help to understand it.
You can share this story on social media: