First photo! Rosetta's historic Philae lander sends pic of new comet home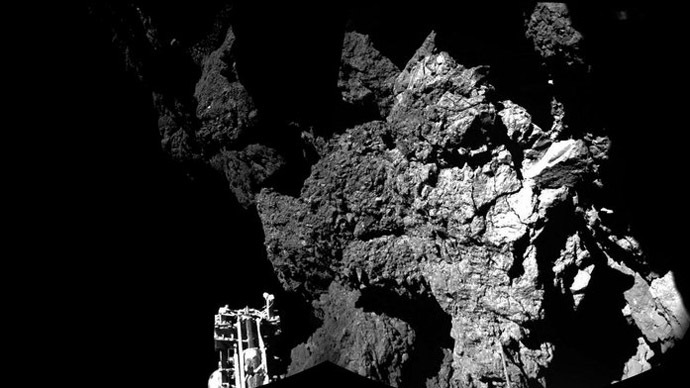 The Philae lander from the Rosetta space mission is safely on the surface of Comet 67P/Churyumov-Gerasimenko, says the European Space Agency (ESA), releasing the first image taken by the robotic module.
The photo shows one of the 100-kg lander's three feet in the foreground.
"Now that I'm safely on the ground, here is what my new home #67P looks like from where I am. #CometLanding," the official Twitter account of Philae Lander says.
READ MORE:First #CometLanding in history as Rosetta's Philae touches down
On Wednesday, the Philae robotic lander reached its final goal. However, its harpoons were not fired to embed it into the comet's surface, which raised concerns that the lander might be sent back into space.
Now that I'm safely on the ground, here is what my new home #67P looks like from where I am. #CometLandingpic.twitter.com/gFmt8Ldvpa

— Philae Lander (@Philae2014) November 13, 2014
"Philae is stable, sitting on the nucleus and is producing data," Gerhard Schwehm, a scientist on the Rosetta mission, told AP. "The lander is very healthy."
He added that it may still be possible to fire the harpoons, only if it doesn't interfere with the lander.
The Rosetta mission team at European Space Operations Centre (ESOC) spoke with Ignacio Tanco, deputy spacecraft operations manager, who said Philae is doing very well.
Tanco says Rosetta is presently sending signals to the ground stations at about 28 Kbps.
From Control Centre to Control Centre: ATV team congratulates @ESA_Rosetta & @Philae2014 teams: http://t.co/f8j9QxKUph

— ESA Operations (@esaoperations) November 13, 2014
"Rosetta is operating nominally; the network systems and overall ground segment to control the mission are nominal," says a statement from the Rosetta blog led by the team.
The Rosetta comet-hunter started its journey back in March 2004 with the aim of carrying out a detailed study of the frozen gaseous 67P/Comet Churyumov–Gerasimenko. The space rock was named after the two Soviet astronomers who discovered it in 1969, Klim Churyumov and Svetlana Gerasimenko.
The spacecraft, worth $1.6 billion, traveled a total of 6.4 billion kilometers to get to the comet.
The scientific mission on the surface will last 64 hours, before its batteries die out. The probe also has solar panels, yet this power source is unreliable since the comet's environment is very dusty.
Rosetta's Philae will use 21 instruments to study the comet's surface; the scientists are trying to find out if it contains any organic amino acids. This could yield vital clues about the beginning of our solar system and the origin of life on Earth.
You can share this story on social media: