'Bipolar' US man enters North Korea seeking asylum... in Venezuela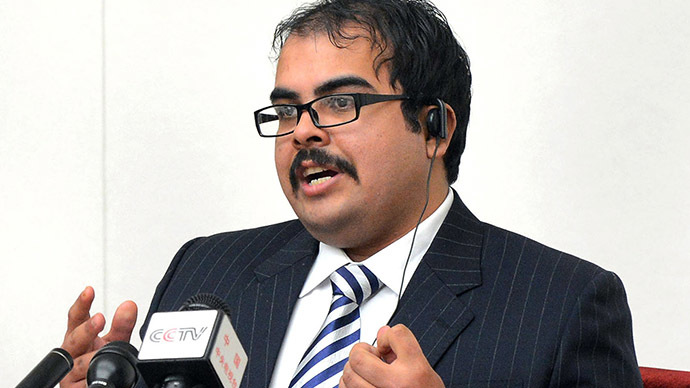 A US citizen who illegally entered North Korea has given a press conference in Pyongyang to condemn US foreign and domestic policy. He is apparently seeking asylum in Venezuela.
The man has identified himself as 29-year-old Arturo Pierre Martinez from El Paso, Texas.
In a press conference in the North Korean capital, Martinez said he had taken "a risky journey to reach the (North) so that I could pass along some very valuable and disturbing information," the North's KCNA state news agency reported on Sunday. He added that he is staying at a nice hotel and thanked the authorities for their hospitality.
Martinez has strongly criticized US human rights record and the country's policies, both at home and abroad.
Among other things, he wanted to share information about "ultrasound devices" that make people hear voices, and also alleged the CIA sells cocaine, Itar-Tass news agency reported, citing the KCNA.
Martinez also said he would seek political asylum in Venezuela.
The man's statement was made at the People's Palace of Culture, the venue used for official signing ceremonies between North Korea and other countries, as well as for press conferences of returning North Korean defectors.
Martinez's mother told CNN that her son is bipolar and mentally unstable and had tried to enter North Korea before by swimming the river separating South and North Korea. He was apprehended and returned to the United States, where he was committed to a psychiatric hospital in California.
"He is very smart and he got the court to let him out and instead of coming home to us he bought a ticket and left for China," Patricia Eugenia Martinez said.
In September, South Korean media reported they had caught a man in his twenties, who had tried to swim across a river to North Korea.
It is not immediately clear how and why Martinez entered the reclusive country this time.
Pyongyang has recently freed three US citizens: two had entered the country on tourist visas. The freed included Korean-American Evangelical missionary Kenneth Bae, who had been convicted of crimes against the North Korean government.
Martinez's criticism comes as North Korea is protesting a UN resolution that could open the door for its leadership to face charges of crimes against humanity for human rights violations.